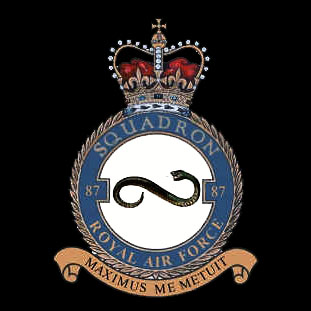 RAF No 87 Squadron
Ian Gleed showing a cartoon of Figaro the cat batting a swastika
Aircrew RAF 87Sqn at Lille-Seclin 6 Dec 1939 IWM F2344A
On 6 December 1939 King George VI, with the Duke of Gloucester and Viscount Lord Gort (Commander-in-Chief of the BEF), inspected RAF Air Component units at Lille-Seclin. Here the King greets Squadron Leader J. S. 'Johnny' Dewar, commanding No 87 Squadron, in front of a smart line-up of Hurricanes.
Imperial War Museum IWM F 2344A https://www.iwm.org.uk/collections/item/object/205219332
Hurricane MkIIc RAF 87Sqn LKA Dennis Smallwood BE500 Charmy Down Somerset IWM COL186
Hurricane Mark IIC, BE500 'LK-A' "United Provinces Cawnpore", being flown by Squadron Leader Dennis Smallwood, the Commanding Officer of No.87 Squadron RAF based at Charmy Down, Somerset. BE500 subsequently served with No. 533 Squadron RAF and finally in the Far East.
Imperial War Museum IWM COL 186 https://www.iwm.org.uk/collections/item/object/205126546
Hurricane MkI RAF 87Sqn at Lille-Seclin Nov 1939 IWM C468
Pilots of No 87 Squadron run to their Hurricane fighters for a mock 'scramble' at Lille-Seclin, November 1939. By now some replacement Hurricanes were arriving in France fitted with de Havilland three-bladed variable-pitch propellers, as evident in this photograph.
Imperial War Museum IWM C 468 https://www.iwm.org.uk/collections/item/object/205094158
Hurricane MkI RAF 87Sqn simulating a attack Lille Seclin France Mar 1940 IWM C1152
Smoke bombs envelop Hawker Hurricane Mark Is of 'B' Flight, No. 87 Squadron RAF, in their dispersal at Lille-Seclin during a gas attack practice.
Imperial War Museum IWM C 1152 https://www.iwm.org.uk/collections/item/object/205207560
Hurricane MkI RAF 87Sqn with Alan Gleed IWM CH1639
Alan Gleed personal emblem A doctor's son, Ian Richard Gleed was born in Finchley, London on 3rd July 1916. Educated at Tenterden Preparatory School and Epsom College, he learned to fly privately and flew his first solo at the London Aeroplane Club, Hatfield on 16th November 1935. Gleed joined the RAF on a short service commission in March 1936 and carried out his ab-initio training at 2 E&RFTS, Filton.
On 16th May he went to 8 FTS, Montrose and then joined 46 Squadron at Digby on 25th December 1936. Gleed went to 266 Squadron as 'B' Flight Commander on 9th September 1939, when it was being reformed at Sutton Bridge. He was testing a Spitfire on 18th February 1940 when it broke up in the air. He was thrown out and lost consciousness. He came to, pulled his ripcord and the parachute opened. He came off flying and did not return to 266 until late April and was only allowed to fly dual.
He regained his full flying category on 14th May 1940 and was posted on the same day to 87 Squadron in France as 'A' Flight Commander. On 18th May Gleed claimed two Me110's destroyed, on the 19th a Me109, two Do17's, a He111 shared and a probable Me109 then on the 20th he shared a Ju88. The squadron was withdrawn to Debden on the 22nd.
Operational again on 21st June, 87 Squadron moved to Exeter in early July. On 15th August Gleed claimed two Me110's destroyed and a probable Me109, then on the 25th two Me110's destroyed and a Me109 damaged. He was awarded the DFC, this being gazetted on 13th September 1940. On 30th September he got a probable Ju88. Gleed took command of 87 Squadron on 24th December 1940. In an attack on Caen airfield during the night of March 14th/15th 1941 he shared in destroying a Do17 on the ground and damaged another Do 17 and a Ju88. He claimed a Do17 destroyed on 7th May, shared a Do18 on the 24th, shared a probable Ju88 on the 28th and damaged two Me109's on the ground on 6th August.
He was appointed Wing Leader at Middle Wallop on 18th November. Gleed claimed a Ju88 probably destroyed on 13th March 1942, a Ju88 on the 23rd, a Me109 and another probable on 17th April and a probable Fw190 on 5th May. He was awarded the DSO (gazetted 22nd May 1942)
Imperial War Museum IWM CH 1639 https://www.iwm.org.uk/collections/item/object/205212594
Hurricane MkIs RAF 87Sqn LKD LKL LKN practicing a scramble at Lille-Seclin IWM C465
Pilots of No. 87 Squadron practicing a scramble to their Hawker Hurricane Mark Is at Lille-Seclin.
Imperial War Museum IWM C 465 https://www.iwm.org.uk/collections/item/object/205207506
Spitfire MkVb RAF Ibsley Wing RG with IR Gleed at Ibsley Hampshire IWM CH5908
Wing Commander I R "Widge" Gleed sitting in the cockpit of his Supermarine Spitfire Mark VB, AA742 'R G', at Ibsley, Hampshire, when leading the Ibsley Wing. Note Gleed's personal emblem, depicting "Figaro" the cat swatting a swastika, beneath the cockpit.
Imperial War Museum IWM CH 5908 https://www.iwm.org.uk/collections/item/object/205210199
Profile 01: Hawker Hurricane MkI RAF 87Sqn LK-A P/O Ian 'Widge' Gleed England September 1940
Profile 01: Hawker Hurricane MkI RAF 87Sqn LK-G P/O 'Watty' Watson England August 1940
Profile 01: Opsrey Aircraft of the Aces, No 57 - Hurricane Aces 1941-45. St Mary's is the largest island of the Isles of Scilly, an archipelago off the southwest coast of Cornwall in England