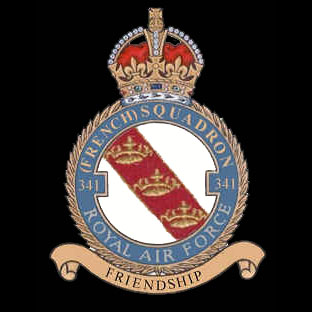 RAF No 341 (GC/III/2 'Alsace') Squadron Spitfire photographs
Aircrew RAF 341Sqn Pierre Clostermann IWM D7264
Sous-Officier Pierre Clostermann, when serving as a pilot a with No. 341 (Alsace) Squadron of the Free French Air Force.
Imperial War Museum IWM D 7264 https://www.iwm.org.uk/collections/item/object/205208029
Spitfire MkIXb RAF 341Sqn at Biggin Hill Kent IWM CH18603
An armourer of No. 3101 Servicing Echelon uses a periscope unit to adjust one of the .303 Browning machine guns on a Supermarine Spitfire Mark IXB of No. 341 (Free French) Squadron RAF, jacked up before a gun harmonization board at Biggin Hill, Kent.
Imperial War Museum IWM CH 18603 https://www.iwm.org.uk/collections/item/object/205210839
IL-2 Sturmovik Cliffs of Dover - COD/CLOD skins

No Game skins for this group at the moment

Please go to the Official 1C Company forum http://forum.1cpublishing.eu/
Magazine References: +

Airfix Magazines (English) - http://www.airfix.com/
Avions (French) - http://www.aerostories.org/~aerobiblio/rubrique10.html
FlyPast (English) - http://www.flypast.com/
Flugzeug Publikations GmbH (German) - http://vdmedien.com/flugzeug-publikations-gmbh-hersteller_verlag-vdm-heinz-nickel-33.html
Flugzeug Classic (German) - http://www.flugzeugclassic.de/
Klassiker (German) - http://shop.flugrevue.de/abo/klassiker-der-luftfahrt
Le Fana de L'Aviation (French) - http://boutique.editions-lariviere.fr/site/abonnement-le-fana-de-l-aviation-626-4-6.html
Le Fana de L'Aviation (French) - http://www.pdfmagazines.org/tags/Le+Fana+De+L+Aviation/
Osprey (English) - http://www.ospreypublishing.com/
Revi Magazines (Czech) - http://www.revi.cz/

Web References: +

History of RAF Organisation: http://www.rafweb.org
History of RAAF: http://www.airpages.ru/eng/ot/raaf_01.shtml
Wikipedia, the free encyclopedia: http://en.wikipedia.org/