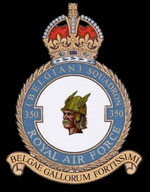 RAF No 350 (Belgian) Squadron
---
RAF No 350 (Belgian) Squadron
Motto: Belgae gallorum fortissimi (The Belgae, the bravest of the Gauls)
The first Belgian fighter squadron to be formed in the RAF this occurred at Valley on 12 November 1941.It was equipped with Spitfires from the outset and began defensive duties in December.
It moved south and joined in offensive operations in April 1942 until being sent north in March 1943. It rejoined the offensive in October and became part of No 135 Airfield on 15 November within the 2nd Tactical Air Force.
It was now heavily involved in attacks on targets connected with the forthcoming invasion and then covering the actual landings themselves. In august 1942, the squadron re-equipped with the Griffon engined Mk XIV and was immediately thrown into defensive operations against the V-1 flying bombs being launched against Britain.
After a month on Anti-Diver operations the squadron resumed attacks against targets on the continent, but it was December before the squadron moved there itself arriving at Evere in Belgium on the 3rd. Following the end of the war the squadron joined to occupation forces and was eventually transferred to Belgian control on 15 October 1946, ceasing to be a RAF unit at the same time.
Squadron Codes used: -
YM Allocated Apr - Sep 1939
MN Nov 1942 - Oct 1946
---
Squadron 350 History
51 victoires - 6 probables - 31 endommagés
7 détruits au sol - 2 endommagés au sol - 6 bombes volantes
172 véhicules détruits et 450 endommagés
1 locomotive détruites - 126 endommagées
è Wagons détruits - 276 endommagés
1 char détruit - 3 endommagés
18 bateaux marchands encommagés
350 Squadron was formed at Valley November 12, 1941, as the first Belgian Squadron RAF. Equipped with a Spitfire, it became operational on 22 December and moved towards the South in April 1942 as its first sweeps over Northern France. Placed at rest in the north of England in March 1943, the Squadron resumed its place of frontline Squadron in October 1943 and joined the 2nd TAF to prepare for the invasion Europe.Après have provided coverage of the Normandy Landings The squadron is equipped with Spitfire XIV and is engaged in the summer of 1944 in the hunt for V1 falling on London and the South of England. After the summer, the Squadron resumed his sweep, this time to Holland and from December 1944, the Squadron moved to the homeland of his pilots. From there, the Squadron intensified its attacks against all ground targets, especially communication channels support the advance of Allied troops and so on until the end of the war. After the occupation forces built just after the war, 350 Squadron was transferred to Belgian Air Force who takes control October 15, 1946.
Le Squadron 350 est formé à Valley le 12 novembre 1941, en tant que premier Squadron Belge de la RAF. Equipé de Spitfire, il devient opérationnel le 22 décembre et fait mouvement vers le Sud en avril 1942 pour effectuer ses premiers sweeps au-dessus du Nord de la France. Placé au repos dans le nord de l'Angleterre en mars 1943, le Squadron reprend sa place de Squadron de première ligne en octobre 1943 et intègre la 2nd TAF afin de préparer l'invasion en Europe.Après avoir assuré la couverture du débarquement en Normandie, le squadron est équipé de Spitfire XIV et se trouve engagé au cours de l'été 1944 dans la chasse aux V1 qui tombent sur Londres et le Sud de l'Angleterre. Après l'été, le Squadron reprend ses Sweep, cette fois-ci sur la Hollande et à partir de Décembre 1944, le Squadron s'installe sur la terre natale de ses pilotes. A partir de là, le Squadron intensifie ses attaques contre tous les objectifs terrestres, en particulier les voies de communication en support à l'avance des troupes alliées et ceci jusqu'à la fin de la guerre. Après avoir été intégré aux forces d'occupation juste après guerre, le Squadron 350 est transféré dans Belgian Air Force qui en prend le contrôle le 15 octobre 1946.
350 Squadron Bases
| | | | |
| --- | --- | --- | --- |
| Based | From | To | Aircraft Type |
| Valley | 13.11.41 | 19.02.42 | Spitfire II and Spitfire Vb/Vc (8/2/42) |
| Atcham | 19.02.42 | 05.04.42 | Spitfire Vb / Vc |
| Warmwell | 05.04.42 | 15.04.42 | Spitfire Vb / Vc |
| Debden | 15.04.42 | 30.06.42 | Spitfire Vb / Vc |
| Gravesend | 30.06.42 | 07.07.42 | Spitfire Vb / Vc |
| Martlesham H | 07.07.42 | 16.07.42 | Spitfire Vb / Vc |
| Kenley | 16.07.42 | 31.07.42 | Spitfire Vb / Vc |
| Redhill | 31.07.42 | 07.09.42 | Spitfire Vb / Vc |
| Martlesham H | 07.09.42 | 15.09.42 | Spitfire Vb / Vc |
| Redhill | 15.09.42 | 23.09.42 | Spitfire Vb / Vc |
| Rochford | 23.09.42 | 07.12.42 | Spitfire Vb / Vc |
| Hornchurch | 07.12.42 | 01.03.43 | Spitfire Vb / Vc |
| Heston | 01.03.43 | 05.03.43 | Spitfire Vb / Vc |
| Debden | 05.03.43 | 13.03.43 | Spitfire Vb / Vc |
| Hornchurch | 13.03.43 | 15.03.43 | Spitfire Vb / Vc |
| Fairlop | 15.03.43 | 23.03.43 | Spitfire Vb / Vc |
| Acklington | 23.03.43 | 08.06.43 | Spitfire Vb / Vc |
| Ouston | 08.06.43 | 20.07.43 | Spitfire Vb / Vc |
| Acklington | 20.07.43 | 25.08.43 | Spitfire Vb / Vc |
| Digby | 25.08.43 | 07.09.43 | Spitfire Vb / Vc |
| West Malling | 07.09.43 | 19.09.43 | Spitfire Vb / Vc |
| Digby | 19.09.43 | 01.10.43 | Spitfire Vb / Vc |
| Hawkinge | 01.10.43 | 12.10.43 | Spitfire Vb / Vc |
| Rochford | 12.10.43 | 31.10.43 | Spitfire Vb / Vc |
| Hawkinge | 31.10.43 | 30.12.43 | Spitfire Vb / Vc |
| Hornchurch | 30.12.43 | 08.02.44 | Spitfire IX (1/1/44) |
| Llanbedr | 08.02.44 | 19.02.44 | Spitfire IX |
| Hornchurch | 19.02.44 | 10.03.44 | Spitfire IX |
| Hawkinge | 10.03.44 | 14.03.44 | Spitfire IX |
| Peterhead | 14.03.44 | 25.04.44 | Spitfire Vb / Vc (13/3/44) |
| Friston | 25.04.44 | 03.07.44 | Spitfire Vb / Vc |
| Westhampnett | 03.07.44 | 08.08.44 | Spitfire IX (4/7/44) |
| Hawkinge | 08.08.44 | 29.09.44 | Spitfire IX and Spitfire XIV (9/8/44) |
| Lympne | 29.09.44 | 03.12.44 | Spitfire XIV |
| Evere (Belgique) | 03.12.44 | 31.12.44 | Spitfire XIV |
| Ophoven (Belgique) | 31.12.44 | 27.01.45 | Spitfire XIV |
| Eindhoven (Hollande) | 27.01.45 | 17.03.45 | Spitfire XIV |
| Warmwell | 17.03.45 | 03.04.45 | Spitfire XIV |
| Eindhoven (Hollande) | 03.04.45 | 08.04.45 | Spitfire XIV |
| Twente (Hollande) | 08.04.45 | 16.04.45 | Spitfire XIV |
| Celle (Allemagne) | 16.04.45 | 06.05.45 | Spitfire XIV |
| Fassberg (Allemagne) | 06.05.45 | 08.05.45 | Spitfire XIV |
350 Squadron Commanders
| | | | |
| --- | --- | --- | --- |
| | (S/L) Thompson J | 14.11.41 | 20.03.42 |
| | (S/L) Guillaume D | 20.03.42 | 19.12.42 |
| | (S/L) Boussa A | 19.12.42 | 28.12.43 |
| | (S/L) Prevot L | 28.12.43 | 24.03.44 |
| | (S/L) Donnet M | 24.03.44 | 23.10.44 |
| | (S/L) Collignon L | 23.10.44 | 24.12.44 |
| | (F/L) Lavigne J | 24.12.44 | 04.01.45 |
| | (S/L) Spencer T | 04.01.45 | 27.02.45 |
| | (S/L) Woolley F | 27.02.45 | 15.04.45 |
| | (S/L) Spencer T | 15.04.45 | 23.04.45 |
| | (S/L) Walmsley H | 23.04.45 | 19.08.45 |
350 Squadron Leader's / A Group and B Group
350 Squadron Leader's / A Group

350 Squadron Leader's / B Group

(F/L) Gonay H
14.11.41
28.03.42
(F/L) Carlier J
14.11.41
17.01.42
(F/L) Boussa A
28.03.42
19.12.42
(F/L) Guillaume D
17.01.42
20.03.42
(F/L) Smets H
19.12.42
02.09.43
(F/L) Du Monceau
20.03.42
29.12.42
(F/L) Collignon L
02.09.43
28.12.43
(F/L) Plisnier A
29.12.42
28.12.43
(F/L) Alexandre A
28.12.43
10.06.44
(F/L) Collignon L
28.12.43
24.04.44
(F/L) Plisnier A
10.06.44
04.11.44
(F/L) Plisnier A
24.04.44
11.06.44
(F/L) Seydel G
04.11.44
28.12.44
(F/L) De Patoul G
11.06.44
31.07.44
(F/L) Verpoorten F
28.12.44
02.03.45
(F/L) Lavigne J
31.07.44
02.03.45
(F/L) Smith K
02.03.45
20.04.45
(F/L) Howorth D
02.03.45
12.11.45
(F/L) Bangerter
20.04.45
07.05.45
350 Squadron Pilots
| | | | | | |
| --- | --- | --- | --- | --- | --- |
| Pilot Name | Serial No | Country | From | To | Remarks |
| Alexandre R | 134055 | | 18.11.41 | 13.03.44 | |
| Alexandre R | 134055 | | 02.06.44 | 10.06.44 | KIA |
| Arend P | 102532 | | 22.06.42 | 11.01.43 | |
| Bangerter P | 124911 | | 13.04.45 | 08.05.45 | |
| Beckers G | 117602 | | 06.01.44 | 27.07.44 | |
| Bladt R | 1814840 | | 01.06.43 | 01.03.45 | |
| Blairon J | 1299913 | | 18.11.41 | 09.05.42 | KIA |
| Boels H | 1424945 | | 25.07.44 | 29.11.46 | |
| Boussa A | 101465 | | 28.03.42 | 28.12.43 | |
| Boute F | 162649 | | 03.03.42 | 13.10.43 | KIA |
| Brahy C | 1398074 | | 06.04.43 | 11.06.43 | |
| Brahy C | 1398074 | | 10.01.45 | 24.04.45 | |
| Brosteaux J | 133258 | | 09.04.43 | 01.11.44 | |
| Carlier J | 87701 | | 14.11.41 | 08.01.42 | |
| Charlier M | 117620 | | 07.07.42 | 27.08.42 | KIA |
| Claesen A | 125746 | | 03.09.42 | 15.06.44 | |
| Collignon L | 116288 | | 03.09.42 | 14.03.43 | |
| Collignon L | 116288 | | 1943 | 24.12.44 | |
| Cresswell-Turner A | 152668 | | 03.04.45 | 05.04.45 | |
| Custers A | 87703 | | 14.11.41 | 26.08.42 | |
| Dancot A | 1299847 | | 23.12.42 | 21.12.43 | KIA |
| De Callatay J | 137228 | | 03.03.43 | 01.07.43 | |
| Dehasse R | 117621 | | 07.07.42 | 21.03.43 | |
| De Hepcée M | 1379178 | | 17.03.43 | 13.11.43 | KIA |
| De Jaegher G | 1299838 | | 23.12.42 | 30.04.44 | |
| Delorme P | 157939 | | 05.06.44 | 20.03.46 | |
| Deltour G | 100651 | | 14.11.41 | 09.02.44 | |
| De Merode W | 116473 | | 04.09.42 | 12.12.42 | |
| De Patoul G | 87684 | | 02.09.42 | 24.04.45 | |
| De Puysseleyr J | 100652 | | 14.11.41 | 03.12.41 | |
| De Wever G | 87692 | | 14.11.41 | 29.06.42 | |
| Doncq M | 182304 | | 14.06.44 | 28.11.46 | |
| Donnet M | 102522 | | 24.03.44 | 23.10.44 | |
| Drossaert A | 103480 | | 03.09.42 | 09.12.42 | |
| Duchateau R | 135896 | | 26.11.43 | 01.03.45 | |
| Duchesne G | 132975 | | 09.04.43 | 30.01.44 | KIA |
| Du Monceau Y | 87700 | | 25.03.42 | 07.43 | |
| Ernould R | 1299835 | | 06.04.43 | 20.07.44 | |
| Ester J | 127452 | | 17.11.41 | 09.05.42 | |
| Featherstone A | 143456 | | 04.04.45 | 20.05.45 | |
| Flohimont L | 138679 | | 01.06.42 | 22.01.43 | KIA |
| François R | 163775 | | 06.02.45 | 08.05.45 | |
| Gerard J | 132971 | | 06.04.43 | 30.01.44 | KIA |
| Gigot G | 1424921 | | 29.07.44 | 10.09.46 | |
| Gonay H | 81635 | | 14.11.41 | 28.03.42 | |
| Grawels M | 1299842 | | 23.03.43 | 11.07.43 | KIA |
| Groensteen J | 1299861 | | 23.12.42 | 06.43 | |
| Groensteen J | 1299861 | | 02.45 | 20.04.45 | KIA |
| Guillaume D | 102953 | | 20.03.42 | 19.12.42 | |
| Hansez J | 1299901 | | 23.11.41 | 01.06.42 | KIA |
| Harmel L | 1299917 | | 17.11.41 | 12.43 | |
| Heimes L | 1299983 | | 19.11.41 | 26.11.42 | |
| Herreman A | 2294943 | | 31.08.42 | 08.06.44 | KIA |
| Hoonaert R | 128392 | | 22.06.44 | 04.04.45 | |
| Howorth D | 82678 | | 03.03.45 | 12.11.45 | |
| Huens R | 1899804 | | 14.06.44 | 23.01.45 | KIA |
| Jaminé R | 1424883 | | 14.06.44 | 03.10.46 | |
| Kicq A | 1424885 | | 19.07.44 | 18.12.45 | |
| Kovarski G | 1424946 | | 09.04.45 | 08.05.45 | |
| Laloux W | 1299839 | | 21.03.43 | 09.02.45 | |
| Lambrechts L | 1899871 | | 05.06.44 | 08.05.44 | |
| Laumans R | 67088 | | 03.04.42 | 01.06.42 | |
| Lavigne J | 156374 | | 23.12.42 | 01.03.45 | |
| Lelarge L | 127854 | | 12.01.43 | 05.05.46 | |
| Leva P | 186344 | | 23.03.43 | 25.10.44 | |
| Limet H | 1299911 | | 01.12.41 | 18.11.42 | |
| Livijns G | 132421 | | 01.12.41 | 01.06.42 | KIA |
| Marchal H | 87678 | | 07.06.42 | 19.08.42 | |
| Mehuys R | 1424826 | | 12.06.44 | 01.03.45 | |
| Menu X | 87683 | | 14.11.41 | 10.08.42 | KIA |
| Michiels A | 141761 | | 01.12.41 | 24.01.44 | |
| Morel J | 1424812 | | 25.01.44 | 11.11.44 | KIA |
| Muls R | 153066 | | 05.06.44 | 02.02.46 | |
| Neulinger S | 1424916 | | 04.04.45 | 08.05.45 | |
| Orban de Xivry C | 797758 | | 28.11.44 | 08.05.45 | |
| Pacco P | 154940 | | 05.06.44 | 05.45 | |
| Patterson E | 119231 | | 01.06.44 | 18.07.44 | |
| Pauwels E | 195058 | | 28.07.44 | 05.45 | |
| Peeters L | 103566 | | 14.11.41 | 23.05.42 | |
| Picard H | 87693 | | 14.11.41 | 27.08.42 | |
| Plas E | 87697 | | 14.11.41 | 21.03.43 | |
| Plisnier A | 100654 | | 14.11.41 | 28.12.43 | |
| Plisnier A | 100654 | | 24.04.44 | 05.11.44 | |
| Prevot L | 84285 | | 28.12.43 | 24.03.44 | |
| Raes M | 1299915 | | 04.03.42 | 13.06.42 | KIA |
| Rigole J | 156375 | | 16.06.42 | 06.43 | |
| Schrobiltgen R | 87696 | | 09.12.41 | 04.06.42 | KIA |
| Scuvie | 143484 | | 13.03.44 | 30.04.44 | KIA |
| Seydel G | 116541 | | 17.11.41 | 05.08.42 | |
| Seydel G | 116541 | | 04.11.44 | 28.12.44 | |
| Siroux L | 151927 | | 25.01.44 | 09.44 | |
| Siroux L | 151927 | | 03.45 | 05.45 | |
| Siroux P | 127853 | | 12.01.43 | 23.07.44 | |
| Smets H | 87694 | | 14.11.41 | 02.09.43 | |
| Smets H | 87694 | | 22.06.44 | 16.01.45 | |
| Smith K | 115521 | | 03.03.45 | 20.04.45 | |
| Spencer T | 47269 | | 04.01.45 | 26.02.45 | |
| Spencer T | 47269 | | 15.04.45 | 19.04.45 | |
| Thompson J | 34183 | | 14.11.41 | 20.03.42 | |
| Van den Haute A | 103481 | | 26.06.42 | 2309.42 | |
| Vandepoel R | 100999 | | 06.10.42 | 11.07.43 | KIA |
| Vanderperren J | 120896 | | 02.06.44 | 25.12.44 | KIA |
| Vanderveken R | 1424915 | | 09.10.43 | 01.03.45 | |
| Van Eeckhoudt A | 168777 | | 29.09.44 | 09.05.46 | |
| Van Lerberghe J | 171435 | | 17.11.41 | 06.43 | |
| Van Liefland J | 1424983 | | 13.04.45 | 08.05.45 | |
| Van Moffaert H | 1299920 | | 18.11.41 | 04.08.42 | |
| Van Wersch A | 169983 | | 01.06.43 | 01.03.45 | |
| Venesoen F | 107235 | | 10.12.41 | 23.03.43 | |
| Venesoen F | 107235 | | 12.05.44 | 06.06.44 | KIA |
| Verbeeck L | 1299865 | | 28.11.42 | 06.43 | |
| Verbeeck L | 1299865 | | 13.03.44 | 01.03.45 | |
| Verpoorten F | 169600 | | 12.01.43 | 01.03.45 | |
| Walmsely H | 139425 | | 23.04.45 | 19.08.45 | |
| Watkins D | 188502 | | 03.03.45 | 12.11.45 | |
| Wilson P | 153041 | | 01.06.44 | 23.05.42 | KIA |
| Winterbeeck E | 87680 | | 03.04.42 | 23.05.42 | KIA |
| Woolley F | 105174 | | 27.02.45 | 15.04.45 | |
| Woolley J | 1578305 | | 01.06.44 | 08.07.44 | KIA |
| Wustefeld J | 169984 | | 23.12.42 | 04.11.44 | |
350 Squadron Loses
| Date | Nation | Pilot | Area | Aircraft | Cause | Remarks | Operation Type |
| --- | --- | --- | --- | --- | --- | --- | --- |
| 09.05.42 | | (Sgt) BlaironJ A | France | Spitfire Vb AA857 | Flak | KIA | Circus |
| 19.05.42 | | (Sgt) EsterJ | Douvres | Spitfire Vb BL622 | CA / Me 109 | KIA | Circus - récupéré en mer - |
| 23.05.42 | | (P/O) WinterbeekE E L | Calais | Spitfire Vb BL476 | CA / JG 26 | KIA | Rodeo |
| 23.05.42 | | (P/O) PeetersL V | Calais | Spitfire Vb AR333 | CA / JG 26 | POW | Rodeo |
| 01.06.42 | | (F/S) LivijnsG G A | Ostende | Spitfire Vb BL822 | CA / Fw 190 | KIA | Circus 178 - JG 26 |
| 01.06.42 | | (Sgt) HansezL J A | Ostende | Spitfire Vb W3626 | CA / Fw 190 | KIA | Circus 178 - JG 26 |
| 01.06.42 | | (P/O) LaumansR J L | Ostende | Spitfire Vb AB173 | CA / Fw 190 | Parachute POW | Circus 178 - JG 26 - recovered at sea- |
| 04.06.42 | | (P/O) SchrobiltgenR | Ambleteux | Spitfire Vb EN835 | CA / Fw 190 | KIA | Ramrod - JG 2 |
| 13.06.42 | | (Sgt) Raes M H M | Norwich | Spitfire Vb W3446 | ??? | KIA | Maritime Patrol |
| 29.06.42 | | (P/O) De Wever R | France | Spitfire Vb AA835 | CA / Flak ? | POW | Circus 195 |
| 30.07.42 | | (P/O) MarchalH E | St Omer | Spitfire Vb BM176 | CA / Flak ? | injurred during force landing | Ramrod |
| 05.08.42 | | (P/O) Seydel G | Bray Dunes | Spitfire Vb AD322 | CA / Flak ? | Unscathed Parachute Jump | Rhubarb - recovered at sea by HSL |
| 10.08.42 | | (P/O) Menu X L A | Angleterre | Spitfire Vb W3214 | CA / Flak ? | KIA | Scramble - lost at sea |
| 13.08.42 | | (P/O) Dehasse R | Lewes | Spitfire Vb EN769 | CA / Flak ? | injurred during force landing | Rhubarb |
| 16.08.42 | | (P/O) Picard H A | Merville | Spitfire Vb AB980 | Collision | force landed in Allied Territory | Rhubarb - struck a power line |
| 16.08.42 | | (Sgt) EsterJ | Merville | Spitfire Vb EN796 | Collision | force landed POW / Evadé | Rhubarb - hit a water tower - Back in the UK in April 1943 |
| 19.08.42 | | (P/O) MarchalH E | Dieppe | Spitfire Vb AR380 | CA / Fw 190 | Ditched POW | Jubilee - Salvage at Sea |
| 19.08.42 | | (F/L) BoussaA L T J | Dieppe | Spitfire Vb EN769 | CA / Fw 190 | injurred during force landing | Jubilee |
| 27.08.42 | | (P/O) CharlierM J J | France | Spitfire Vb AB912 | CA / JG 26 | KIA | Circus 208 |
| 27.08.42 | | (P/O) Picard H A | France | Spitfire Vb BM297 | CA / JG 26 | POW | Circus 208 - Executed by Gestapo 25/03/44 - The Great Escape |
| 08.11.42 | | (F/O) DeltourG F | France | Spitfire Vb EN773 | CA / Fw 190 | force landed in Allied Territory | Circus 235 - Att forced to Manston |
| 12.12.42 | | (F/O) De Merode W P | Sangatte | Spitfire Vb AD550 'N' | CA / Fw 190 | force landed Evadé | Circus 242 - Escaped - returned to England in May 1943 |
| 12.12.42 | | (F/O) PlisnierA | Sangatte | Spitfire Vc AR515 | CA / Fw 190 | force landed in Allied Territory | Circus 242 |
| 22.01.43 | | (Sgt) Flohimont L V | France | Spitfire Vb AR592 | CA / JG 26 | KIA | Circus 253 |
| 11.07.43 | | GrawelsM | Angleterre | Spitfire V - | Collision | KITA | Training flight |
| 11.07.43 | | VandepoelR | Angleterre | Spitfire V | Collision | KITA | Training flight |
| 13.11.43 | | (F/S) BouteF E L | Lokeren-Gent | Spitfire V EP240 'C' | CA / Flak ? | KIA | Rhubarb, Lokeren-Gent |
| 13.11.43 | | (Sgt) de Hepcée M A R L M | Lokeren-Gent | Spitfire V MA573 | CA / Flak ? | KIA | Rhubarb, Lokeren-Gent |
| 28.12.43 | | (F/S) DancotG L M G | Gueschart | Spitfire V MH441 'X' | CA / Fw 190 | KIA | Rhubarb, Gueschart |
| 30.01.44 | | (F/L) DuchesneG F G | St Omer | Spitfire IX MH428 | Flak | KIA | Ranger - St Omer |
| 30.01.44 | | (F/O) GerardJ J | St Omer | Spitfire IX MH476 | Flak | KIA | Ranger - St Omer - Died of wounds |
| 30.04.44 | | (F/O) ScuvieD J M | Tangmere | Spitfire Vb AR498 | Collision | KIA | Collision avec De Jaegher |
| 30.04.44 | | (W/O) De Jaeger G C | Tangmere | Spitfire Vb AA853 | Collision | Injured Ditching | Collision with Scuvie - Salvage at Sea |
| 06.06.44 | | VenesoenF | Normandie | Spitfire Vb EN950 'H' | Engine Failure | KIA | Bailled out off Friston - not found |
| 08.06.44 | | (F/O) HerremanA M L | Normandie | Spitfire Vb BM363 | Collision | KIA | Collision with a B26 off Friston |
| 10.06.44 | | (F/L) AlexandreR A G | Normandie | Spitfire Vb AA720 'J' | Engine Failure | KIA | Lost at sea |
| 10.06.44 | | (F/O) Wilson P A | Normandie | Spitfire Vb BM422 | - | KIA | Patrol |
| 14.06.44 | | (F/O) Lelarge L M | Caen | Spitfire Vc EE723 | Flak | Unscathed Parachute Jump | Patrol cover - recovered by Royal Navy |
| 07.07.44 | | (F/O) MulsR L | Caen | Spitfire IX MJ338 | Flak | force landed in Allied Territory | Ramrod |
| 08.07.44 | | Woolley J | Angleterre | Spitfire V - | Engine Fire | Accidentally killed | Explodes in flight |
| 04.11.44 | | Collignon L | Aachen | Spitfire XIV NH716 | Flak ! | force landed in Allied Territory | Ramrod on Sollingen - Afternoon |
| 06.11.44 | | (F/O) VerpootenF | Belgique | Spitfire XIV RM671 | Flak | force landed in Allied Territory | Ramrod |
| 11.11.44 | | (xx) Morel J | Lympne | Spitfire XIV - | Accident | Accidentally killed | Crash landing |
| 24.12.44 | | Collignon L | Malmedy | Spitfire XIV RM690 | Flak | Injured after bailling out | Patrol |
| 25.12.44 | | (F/O) VanderperrenJ M F | Malmedy | Spitfire XIV RM673 | Flak | KIA | Patrol - Attack of vehicles |
| 16.01.45 | | (F/L) SmetsH | Aachen | Spitfire XIV RM619 | Flak | POW | Reco army |
| 23.01.45 | | (F/S) HuensR | St Vith | Spitfire XIV NH711 | Flak | KIA | Reco army |
| 11.02.45 | | (W/O) Laloux J W L | Allemagne | Spitfire XIV NH685 | Flak | POW | Reco army |
| 26.02.45 | | Spencer T | Rhode | Spitfire XIV RM739 | Flak / CA ? | Evadé | Reco army - Parvient à s'évader en mars |
| 04.04.45 | | (F/L) HoornaertR | Lingen | Spitfire XIV RB183 | Flak | POW | Reco army |
| 05.04.45 | | (F/O) Cresswell-Turner A | Cloppenburg | Spitfire XIV RB185 L | CA / JG 26 | POW | Reco army |
| 19.04.45 | | Spencer T | Baie de Wismar | Spitfire XIV SM814 | CA | POW | Sweep |
| 20.04.45 | | (W/O) GroensteenJ | Berlin | Spitfire XIV NH686 V | CA / Fw 190 | KIA | - |
| 20.04.45 | | (F/L) Smith K | Schwerin | Spitfire XIV RM744 'L' | CA | POW | Reco army |
| 24.04.45 | | (F/L) De Patoul G R J | Wismar | Spitfire XIV RM618 | CA / Fw 190 | POW | Sweep |
350 Squadron aerial victries
Date
Time
Enemy A/C
Area
Results
350 Squadron A/C Used
Kills
Pilot's involved
09.05.42
?
Fw 190
Calais
Damaged
Sqn 350 Spitfire Vb - BL450
-
Du Monceau de Bergendael Y
19.05.42
?
Me 109
Calais Gris Nez
Probable
Sqn 350 Spitfire V
-
Ester J
19.05.42
?
Fw 190
Calais Gris Nez
Damaged
Sqn 350 Spitfire Vb - BL450
-
Du Monceau de Bergendael Y
23.05.42
?
Fw 190
Rodeo - St Omer
Destroyed
Sqn 350 Spitfire V
1
Plisnier A
23.05.42
?
Fw 190
Rodeo - St Omer
Damaged
Sqn 350 Spitfire V
-
Plisnier A
23.05.42
?
Fw 190
Rodeo - St Omer
Damaged
Sqn 350 Spitfire V
-
Boussa A
23.05.42
?
Fw 190
Rodeo - St Omer
Damaged
Sqn 350 Spitfire V
-
Laumans A
01.06.42
?
Fw 190
Nieuport
Destroyed
Sqn 350 Spitfire Vb - BL450
5
Du Monceau de Bergendael Y
29.06.42
?
Fw 190
Circus 195: Hazebrouck
Destroyed
Sqn 350 Spitfire V
1
Picard H
29.06.42
?
Fw 190
Circus 195: Hazebrouck
Destroyed
Sqn 350 Spitfire V
2
Picard H
30.07.42
?
Me 109
Manche
Probable
Sqn 350 Spitfire Vb - EN794
-
Du Monceau de Bergendael Y
30.07.42
?
Me 109
Est France
Destroyed
Sqn 350 Spitfire V
1
1
Marchal L
Ester J
30.07.42
?
Me 109
Manche
Damaged
Sqn 350 Spitfire Vb - EN794
-
Du Monceau de Bergendael Y
30.07.42
?
Me 109
Est France
Damaged
Sqn 350 Spitfire V
-
-
Marchal L
Ester J
19.08.42
?
Fw 190
Dieppe
Destroyed
Sqn 350 Spitfire Vb - EN794
6
Du Monceau de Bergendael Y
19.08.42
?
Fw 190
Dieppe
Destroyed
Sqn 350 Spitfire V
1
Venesoen F
19.08.42
?
Fw 190
Dieppe
Destroyed
Sqn 350 Spitfire V
2
Venesoen F
19.08.42
?
Fw 190
Dieppe
Destroyed
Sqn 350 Spitfire V
2
Plisnier A
19.08.42
?
Fw 190
Dieppe
Destroyed
Sqn 350 Spitfire V
3
1
Picard H
Plas E
19.08.42
?
Fw 190
Dieppe
Destroyed
Sqn 350 Spitfire V
1
Boussa A
19.08.42
?
Ju 88
Dieppe
Destroyed
Sqn 350 Spitfire V
-
1
3
1
Smets H
Boute F
Plisnier A
Van Lerberghe J
19.08.42
?
Do 217
Dieppe
Destroyed
Sqn 350 Spitfire V
1
-
-
-
Collignon L
x
x
x
19.08.42
?
Fw 190
Dieppe
Probable
Sqn 350 Spitfire V
-
Boussa A
19.08.42
?
Fw 190
Dieppe
Probable
Sqn 350 Spitfire V
-
Alexandre R
19.08.42
?
Fw 190
Dieppe
Damaged
Sqn 350 Spitfire V
-
Flohimont L
19.08.42
?
Fw 190
Dieppe
Damaged
Sqn 350 Spitfire V
-
Flohimont L
19.08.42
?
Fw 190
Dieppe
Damaged
Sqn 350 Spitfire V
-
Boussa A
19.08.42
?
Fw 190
Dieppe
Damaged
Sqn 350 Spitfire Vb - EN794
-
Du Monceau de Bergendael Y
19.08.42
?
Fw 190
Dieppe
Damaged
Sqn 350 Spitfire V
-
Alexandre R
19.08.42
?
Fw 190
Dieppe
Damaged
Sqn 350 Spitfire V
-
Alexandre R
19.08.42
?
Fw 190
Dieppe
Damaged
Sqn 350 Spitfire V
-
Boute F
19.08.42
?
Fw 190
Dieppe
Damaged
Sqn 350 Spitfire V
-
-
Boute F
Seydel G
19.08.42
?
Fw 190
Dieppe
Damaged
Sqn 350 Spitfire V
.
Seydel G
19.08.42
?
Fw 190
Dieppe
Damaged
Sqn 350 Spitfire V
-
Plas E
19.08.42
?
Do 217
Dieppe
Damaged
Sqn 350 Spitfire V
-
Van Lerberghe J
24.08.42
?
Fw 190
France
Damaged
Sqn 350 Spitfire V
-
Plas E
24.08.42
?
Fw 190
France
Damaged
Sqn 350 Spitfire V
-
Plas E
27.08.42
?
Fw 190
France
Destroyed
Sqn 350 Spitfire Vb - EN794
7
Du Monceau de Bergendael Y
16.11.42
?
Hu 52
St-Aubin
Destroyed
Sqn 350 Spitfire V
4
3
Plisnier A
Venesoen F
19.11.42
?
Me 110
Gent
Destroyed
Sqn 350 Spitfire V
5
-
Plisnier A
Harmel L
12.12.42
?
Fw 190
Circus 242 - St Omer
Destroyed
Sqn 350 Spitfire Vb - EN794
8
Du Monceau de Bergendael Y
12.12.42
?
Fw 190
Circus 242 - St Omer
Damaged
Sqn 350 Spitfire V
-
Collignon L
12.12.42
?
Fw 190
Circus 242 - St Omer
Damaged
Sqn 350 Spitfire V
-
Plisnier A
12.12.42
?
Fw 190
Circus 242 - St Omer
Damaged
Sqn 350 Spitfire V
-
Plisnier A
22.01.43
?
Fw 190
Circus 253 - St Omer
Destroyed
Sqn 350 Spitfire V
1
Alexandre R
22.01.43
?
Fw 190
Circus 253 - St Omer
Probable
Sqn 350 Spitfire V
-
Plisnier A
06.04.43
?
Do 217
110 km Est Acklington
Destroyed
Sqn 350 Spitfire V
2
Boussa A
21.12.43
?
Fw 190
Ramrod 381 - Berck
Destroyed
Sqn 350 Spitfire V
1
Herreman A
28.12.43
?
Fw 190
.Rhubarb - Calais
Destroyed
Sqn 350 Spitfire V
1
Siroux P
15.08.44
?
V1
Angleterre
Destroyed
Sqn 350 Spitfire XIV
-
-
Boels H
Vanderveken R
15.08.44
?
V1
Angleterre
Destroyed
Sqn 350 Spitfire XIV
-
Verbeeck L
16.08.44
?
V1
Angleterre
Destroyed
Sqn 350 Spitfire XIV
-
-
Lavigne J
Leva P
19.08.44
?
V1
Angleterre
Destroyed
Sqn 350 Spitfire XIV
.
Wustefeld J
19.08.44
?
V1
Angleterre
Destroyed
Sqn 350 Spitfire XIV
.
Verbeeck L
19.08.44
?
Ju 88
Brixelles
Destroyed
Sqn 350 Spitfire XIV
6
Plisnier A
20.08.44
?
V1
Angleterre
Destroyed
Sqn 350 Spitfire XIV
-
Leva P
21.02.45
?
Me 109
Paderborn
Destroyed
Sqn 350 Spitfire XIV
-
Lavigne J
21.02.45
?
Me 109
Paderborn
Destroyed
Sqn 350 Spitfire XIV
1
Van Wersch A
21.02.45
?
Me 109
Paderborn
Destroyed
Sqn 350 Spitfire XIV
1
Lambrechts L
21.02.45
?
Me 109
Paderborn
Damaged
Sqn 350 Spitfire XIV
-
Brahy C
21.02.45
?
Fw 190
Paderborn
Damaged
Sqn 350 Spitfire XIV
-
Kicq A
21.02.45
?
Fw 190
Paderborn
Damaged
Sqn 350 Spitfire XIV
-
Brahy C
21.02.45
?
Me 109
Paderborn
Damaged
Sqn 350 Spitfire XIV
-
Lambrechts L
02.03.45
?
Me 109
Münster
Destroyed
Sqn 350 Spitfire XIV
2
Lambrechts L
02.03.45
?
Me 109
Münster
Destroyed
Sqn 350 Spitfire XIV
1
Groensteen J
02.03.45
?
Me 109
Münster
Destroyed
Sqn 350 Spitfire XIV
1
Hoornaert
02.03.45
?
Me 109
Münster
Probable
Sqn 350 Spitfire XIV
-
Pauwels E
02.03.45
?
Me 109
Münster
Damaged
Sqn 350 Spitfire XIV
-
Pauwels E
13.03.45
?
Me 109
Rhin
Destroyed
Sqn 350 Spitfire XIV
1
Woolley F
05.04.45
?
Fw 190
Aschendorf
Destroyed
Sqn 350 Spitfire XIV
1
1
Muls R
Neulinger S
17.04.45
?
Fw 190
.Hambourg
Destroyed
Sqn 350 Spitfire XIV
1
Kicq A
18.04.45
?
Ju 188
.
Ground Kill
Sqn 350 Spitfire XIV
-
Bangerter P
18.04.45
?
Ju 188
.
Ground Kill
Sqn 350 Spitfire XIV
-
Watkins D
18.04.45
?
Ju 188
Wittenberg
Ground Kill
Sqn 350 Spitfire XIV
-
Gigot G
18.04.45
?
Ju 188
Wittenberg
Ground Kill
Sqn 350 Spitfire XIV
-
Orban C
18.04.45
?
Fw 190
Wittenberg
Sol / End
Sqn 350 Spitfire XIV
-
-
-
-
Watkins D
Gigot G
Orban C
Bangerter P
19.04.45
?
Ju 88
Lauenburg
Ground Kill
Sqn 350 Spitfire XIV
.
Spencer T
19.04.45
?
Ju 87
Lauenburg
Ground Kill
Sqn 350 Spitfire XIV
-
Siroux L
19.04.45
?
Fw 190
Wittenberg
Ground Kill
Sqn 350 Spitfire XIV
-
Boels H
20.04.45
?
Fw 190
Berlin
Destroyed
Sqn 350 Spitfire XIV
.
Howorth D
20.04.45
?
Fw 190
Berlin
Destroyed
Sqn 350 Spitfire XIV
1
Watkins D
20.04.45
?
Fw 190
Berlin
Destroyed
Sqn 350 Spitfire XIV
2
Kicq A
20.04.45
?
Fw 190
Berlin
Destroyed
Sqn 350 Spitfire XIV
1
Doncq M
20.04.45
?
Fw 190
Berlin
Probable
Sqn 350 Spitfire XIV
-
Muls R
24.04.45
?
He 111
Allemagne
Destroyed
Sqn 350 Spitfire XIV
2
1
Watkins D
Van Eeckhoudt A
24.04.45
?
Fw 190
Allemagne
Destroyed
Sqn 350 Spitfire XIV
10
Walmsley H
24.04.45
?
Fw 190
Allemagne
Probable
Sqn 350 Spitfire XIV
-
De Patoul G
25.04.45
?
Fw 190
Allemagne
Destroyed
Sqn 350 Spitfire XIV
1
Pauwels E
25.04.45
?
Fw 190
Allemagne
Destroyed
Sqn 350 Spitfire XIV
2
Pauwels E
25.04.45
?
Fw 190
Allemagne
Destroyed
Sqn 350 Spitfire XIV
11
Walmsley H
25.04.45
?
Fw 190
Allemagne
Damaged
Sqn 350 Spitfire XIV
.
Delorme P
26.04.45
?
Fw 190
Pritzwalk
Destroyed
Sqn 350 Spitfire XIV
1
Gigot G
26.04.45
?
Fw 190
Pritzwalk
Destroyed
Sqn 350 Spitfire XIV
1
2
2
12
Leva P
Doncq M
Gigot G
Walmsley H
30.04.45
?
Fw 190
Ludwigslut
Destroyed
Sqn 350 Spitfire XIV
1
Bangerter P
30.04.45
?
Fw 190
Ludwigslut
Destroyed
Sqn 350 Spitfire XIV
2
Bangerter P
30.04.45
?
Fw 190
Ludwigslut
Destroyed
Sqn 350 Spitfire XIV
3
Watkins D
30.04.45
?
Fw 190
Ludwigslut
Destroyed
Sqn 350 Spitfire XIV
4
Watkins D
30.04.45
?
Fw 190
Ludwigslut
Destroyed
Sqn 350 Spitfire XIV
3
Gigot G
30.04.45
?
Fw 190
Ludwigslut
Destroyed
Sqn 350 Spitfire XIV
5
4
.
Watkins D
Gigot G
Bangerter P
30.04.45
?
Fw 190
Ludwigslut
Damaged
Sqn 350 Spitfire XIV
-
Watkins D
30.04.45
?
Fw 190
Ludwigslut
Sol / End
Sqn 350 Spitfire XIV
-
Watkins D
01.05.45
?
Fw 190
Allemagne
Destroyed
Sqn 350 Spitfire XIV
2
Muls R
01.05.45
?
Fw 190
Allemagne
Destroyed
Sqn 350 Spitfire XIV
2
Leva P
01.05.45
?
Fw 190
Allemagne
Destroyed
Sqn 350 Spitfire XIV
1
Boels H
01.05.45
?
Fw 190
Allemagne
Destroyed
Sqn 350 Spitfire XIV
2
Boels H
02.05.45
?
Ar 234
Aérorome Hohn
Destroyed
Sqn 350 Spitfire XIV
6
3
2
3
Watkins D
Kicq A
Van Eeckhoudt A
Bangerter P
---
Bibliography

Halley, James J. The Squadrons of the Royal Air Force & Commonwealth, 1918-1988. Tonbridge, Kent, UK: Air-Britain (Historians) Ltd., 1988. ISBN 0-85130-164-9.
Jefford, Wing Commander C.G., MBE,BA,RAF (Retd). RAF Squadrons, a Comprehensive Record of the Movement and Equipment of all RAF Squadrons and their Antecedents since 1912. Shrewsbury: Airlife Publishing, 2001. ISBN 1-84037-141-2.
Rawlings, John D.R. Coastal, Support and Special Squadrons of the RAF and their Aircraft. London: Jane's Publishing Company Ltd., 1982. ISBN 0-7106-0187-5.
RAF - Fighter Command Losses Vol 1, 2 et 3. Norman L R Franck
RAF Fighter Command Victory Claims of WW2 - Vol 1 et 2 - J Foreman
Aces High - Christopher Shores & Clive Williams - Grub Street Editions