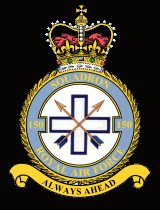 RAF No 150 Squadron
Vickers Wellington III RAF 150Sqn JNL and JNR HF676 based at Blida Algeria 1942-43 IWM CNA3974.
Vickers Wellington B Mark IIIs of No. 150 Squadron RAF are being prepared for a night raid on Bizerte, at Blida, Algeria. In the foreground, armourers, stripped to the waist, wheel a trolley-load of 500-lb GP bombs towards an aircraft 'JN-L', which also undergoing a final engine inspection. In the background, HF676, 'JN-R' appears to be ready for action. Interesting to note is that it's designation 'R' letter has been repainted, the dust, dirt and debris from numerous take-off and landings in the appear to have stripped to paintwork away with the prop-wash!? RAF 150 moved to RAF Snaith in July 1941 becoming operational with Vickers Wellington 1Cs. It moved to the Mediterranean Theatre in December 1942, flying its Wellingtons from Blida in Algeria against targets in Tunisia and Sardinia. It moved to Tunisia in May 1943, and to bases in Italy in December, disbanding in October 1944. Photographer: F/O F. J. Brock. Photo: IWM CNA 3974. Image Repair & Colourisation - Nathan Howland @HowdiColourWorks.
Imperial War Museum IWM CNA-3974
IL-2 Sturmovik Cliffs of Dover - COD/CLOD skins
Bibliography:

Andrews, C.F. The Vickers Wellington I & II (Aircraft in Profile 125). Leatherhead, Surrey: Profile Publications Ltd., 1970, First edition 1967. No ISBN.
Andrews, C.F and E.B. Morgan. Vickers Aircraft since 1908. London: Putnam, 1988. ISBN 0-85177-815-1.
Bowman, Martin. Wellington, The Geodetic Giant. Shrewsbury, UK: Airlife Publishing Ltd., 1989. ISBN 1-85310-076-5.
Bowyer, Chaz. Wellington at War. Shepperton, Surrey: Ian Allan Ltd., 1982. ISBN 0-7110-1220-2.
Bowyer, Chaz. Wellington Bomber. London: William Kimber & Co Ltd., 1986. ISBN 0-7183-0619-8.
Cooksley, Peter G. Wellington, Mainstay of Bomber Command. Wellingborough, Northhamptonshire: Patrick Stephens Ltd., 1987. ISBN 0-85059-851-6.
Crosby, Francis. The World Encyclopedia of Bombers. London: Anness Publishing Ltd., 2007. ISBN 1-84477-511-9.
Delve, Ken. Vickers Armstrong Wellington. Ramsbury, Wiltshire, UK: The Crowood Press Ltd., 1998. ISBN 1-86126-109-8.
Flintham, V. Air Wars and Aircraft: A Detailed Record of Air Combat, 1945 to the Present. New York: Facts on File, 1990. ISBN 0-8160-2356-5.
Gilman J.D. and J. Clive. KG 200. London: Pan Books Ltd., 1978. ISBN 0-85177-819-4.
Hall, Alan W. Vickers Wellington, Warpaint Series No. 10. Husborne Crawley, Berfordshire: Hall Park Books Ltd., 1997. No ISBN.
Jackson, Robert. Britain's Greatest Aircraft. Barnsley, UK: Pen & Sword Books Ltd., 2007. ISBN 978-1-84415-383-1.
Lihou, Maurice. Out of the Italian Night: Wellington Bomber Operations 1944-45. Shrewsbury, UK: Airlife Publishing Ltd., 2003. ISBN 1-84037-405-5.
Lumsden, Alec. Wellington Special. Shepperton, Surrey: Ian Allan Ltd., 1974. ISBN 0-7110-0527-3.
Mackay, Ron. Wellington in Action, Aircraft Number 76. Carrollton, Texas: Squadron/Signal Publications, Inc., 1986. ISBN 0-89747-183-0.
Murray, Dr. Iain Bouncing-Bomb Man: The Science of Sir Barnes Wallis. Haynes. ISBN 978-1-84425-588-7.
Ovčáčík, Michal and Karel Susa. Vickers-Armstrongs Wellington Medium Bomber variants. Prague, Czech Republic: 4+ Publications, 2003. ISBN 80-902559-7-3.
Richards, Denis. The Hardest Victory: RAF Bomber Command in the Second World War. London: Coronet Books, 1995. ISBN 0-340-61720-9.
Richards, Denis. Royal Air Force 1939–1945: Volume I The Fight at Odds. London: HMSO, 1953.
Tarring, Trevor and Mark Joseland. Archie Frazer-Nash .. Engineer. London: The Frazer Nash Archives, 2011. ISBN 978-0-9570351-0-2.

Web References: +

History of RAF Organisation: http://www.rafweb.org
IWM London Lambeth Road London SE1 6HZ Webstite http://www.iwm.org.uk
Wikipedia, the free encyclopedia: http://en.wikipedia.org/

Editor for Asisbiz: Matthew Laird Acred
Send Mail
Please help us to improve these articles with any additional information or photo's.
If you should encounter any bugs broken links, or display errors just email us.
If you love our website please add a like on facebook
Please donate so we can make this site even better !!