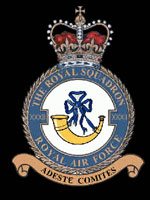 RAF No 32 (The Royal) Squadron
Supermarine Spitfire photographs
MJ730 LFIX CBAF7883 CBAF M66 33MU 12-12-43 222MU 24-12-43 City of Leeds 21-1-44 Casablanca 17-2-44 Middle East 30-11-44 MedAAF 31-5-45 to ItalianAF 27-6-46 as MM4094 ex Israeli Air Force No.66 Registered G-BLAS 1982 extant Sussex
Spitfire MkVcTrop RAF 32Sqn arriving at Araxos Greece 23 Sep 1944 IWM CNA3157
Supermarine Spitfire Mark Vs of No. 32 Squadron RAF cause much interest among the local peasants shortly after arriving at Araxos, Greece, following the capture of the airfield on 23 September 1944. They were the first RAF aircraft to return to the Greek mainland since 1941, being tasked with providing fighter cover for transport aircraft arriving at the airfield.
Imperial War Museum IWM CNA 3157 https://www.iwm.org.uk/collections/item/object/205209411
Spitfire MkVIII RAF 32Sqn GZM JF404 and HFIX GZB MA619 at Foggia Italy 1943 IWM CNA2663
Supermarine Spitfires of No. 32 Squadron RAF undergoing maintenance in a dispersal area at Foggia Main, Italy, as a Boeing B-17F of the 15th USAAF takes off into the evening sky. Two of the Squadron's aircraft, HF Mark VIII, JF 404 'GZ-M', and HF Mark IX, MA619 'GZ-B', painted overall cerulean blue for high altitude offensive reconnaissances over the Dalmatian coast, are at left and centre, while standard camouflaged Mark IXs, such as MA802 'GZ-D', can be seen on the right.
Imperial War Museum IWM CNA 2663 https://www.iwm.org.uk/collections/item/object/205209360
IL-2 Sturmovik Cliffs of Dover - COD/CLOD skins

No Game skins for this group at the moment

Please go to the Official 1C Company forum http://forum.1cpublishing.eu/
Magazine References: +

Airfix Magazines (English) - http://www.airfix.com/
Avions (French) - http://www.aerostories.org/~aerobiblio/rubrique10.html
FlyPast (English) - http://www.flypast.com/
Flugzeug Publikations GmbH (German) - http://vdmedien.com/flugzeug-publikations-gmbh-hersteller_verlag-vdm-heinz-nickel-33.html
Flugzeug Classic (German) - http://www.flugzeugclassic.de/
Klassiker (German) - http://shop.flugrevue.de/abo/klassiker-der-luftfahrt
Le Fana de L'Aviation (French) - http://boutique.editions-lariviere.fr/site/abonnement-le-fana-de-l-aviation-626-4-6.html
Le Fana de L'Aviation (French) - http://www.pdfmagazines.org/tags/Le+Fana+De+L+Aviation/
Osprey (English) - http://www.ospreypublishing.com/
Revi Magazines (Czech) - http://www.revi.cz/

Web References: +

History of RAF Organisation: http://www.rafweb.org
History of RAAF: http://www.airpages.ru/eng/ot/raaf_01.shtml
Wikipedia, the free encyclopedia: http://en.wikipedia.org/