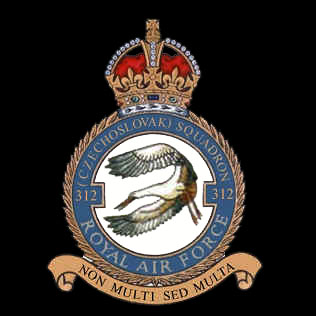 RAF No 312 (Czechoslovak) Squadron
RAF No 312 (Czechoslovak) Squadron Spitfire photographs
Spitfire LFIX RAF 312Sqn DUI at Appledram Sussex IWM CH18720
Supermarine Spitfire LF Mark IXBs of Nos. 312 and 313 (Czech) Squadrons RAF undergoing engine repair and maintenance at Appledram, Sussex, viewed through the entrance of a Butler combat hangar covered with camouflage netting.
Imperial War Museum IWM CH 18720 https://www.iwm.org.uk/collections/item/object/205212726
Notes: The above information was gathered mainly from 'Osprey Aircraft of the Aces - Spitfire Mark I/II Aces by A. Price' (all possible errors in translation to english are mine) Information of K9795 and R Leigh's R6800 from 'Jane's Supermarine Spitfire by David Oliver, Harpers Publisher 1999' P. Richey quote from the 'Fighter pilot's Summer by Wg Cdr Paul Richey and Norman Franks, 1999 edition published by Grub Street' P. Clostermann Quote from '"the Big Show" by Pierre Clostermann, Cassel Military Paperbacks 2004' J. Goodson quote from the'Tumult in the Clouds by James Goodson, Penguin Books 2003'
RAF 312Sqn Sgt M Liskutin shots down a Dornier Do 217 over the Channel Dieppe raid IWM C3193
Stills from camera gun footage taken from a Supermarine Spitfire Mark V flown by Sergeant M Liskutin of No. 312 (Czechoslovak) Squadron RAF, as he shot down a Dornier Do 217 over the English Channel, while on patrol over a convoy of returning vessels from the Dieppe raid.
IWM C 3193 https://www.iwm.org.uk/collections/item/object/205023123
IL-2 Sturmovik Cliffs of Dover - COD/CLOD skins

No Game skins for this group at the moment

Please go to the Official 1C Company forum http://forum.1cpublishing.eu/
Ayr, South Ayrshire, Scotland, United Kingdom Map
Magazine References: +

Airfix Magazines (English) - http://www.airfix.com/
Avions (French) - http://www.aerostories.org/~aerobiblio/rubrique10.html
FlyPast (English) - http://www.flypast.com/
Flugzeug Publikations GmbH (German) - http://vdmedien.com/flugzeug-publikations-gmbh-hersteller_verlag-vdm-heinz-nickel-33.html
Flugzeug Classic (German) - http://www.flugzeugclassic.de/
Klassiker (German) - http://shop.flugrevue.de/abo/klassiker-der-luftfahrt
Le Fana de L'Aviation (French) - http://boutique.editions-lariviere.fr/site/abonnement-le-fana-de-l-aviation-626-4-6.html
Le Fana de L'Aviation (French) - http://www.pdfmagazines.org/tags/Le+Fana+De+L+Aviation/
Osprey (English) - http://www.ospreypublishing.com/
Revi Magazines (Czech) - http://www.revi.cz/

Web References: +

History of RAF Organisation: http://www.rafweb.org
History of RAAF: http://www.airpages.ru/eng/ot/raaf_01.shtml
Wikipedia, the free encyclopedia: http://en.wikipedia.org/