---

Philippine Airlines, Inc
Philippine Airlines, Inc. (abbreviated PAL), also known historically as Philippine Air Lines, is the national airline of the Philippines.
The airline, headquartered in the Philippine National Bank Financial Center in Pasay City, was founded in 1941 and is the oldest commercial airline in Asia operating under its original name. Out of its hubs at Ninoy Aquino International Airport of Manila and Mactan-Cebu International Airport of Cebu City, Philippine Airlines serves nineteen destinations in the Philippines and twenty-four destinations in Southeast Asia, East Asia, Australia, Canada and the United States.
Formerly one of the largest Asian airlines, PAL was severely affected by the 1997 Asian Financial Crisis. In what was believed to be one of the Philippines' biggest corporate failures, PAL was forced to downsize its international operations by completely cutting operations to Europe and eventually Southwest Asia, cutting virtually all domestic services excluding routes operated from Manila, reducing the size of its fleet and terminating the jobs of thousands of employees. The airline was placed under receivership in 1998, gradually restoring operations to many of the destinations it formerly serviced. PAL exited receivership in 2007 with ambitious plans to further restore services to its previously-serviced destinations, as well as diversify its fleet.
Philippine Airlines is the only airline in the Philippines to be accredited with the IOSA (IATA Operational Safety Audit) by the International Air Transport Association and has been awarded a 3-star rating by Skytrax.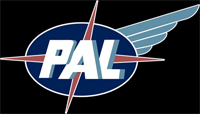 History
Early beginnings
The airline was founded on February 26, 1941 by a group of businessmen led by Andres Soriano, hailed as one of the Philippines' leading industrialists at the time, who served as its general manager, and former Senator Ramon Fernandez, who served as its chairman and president.
The airline's first flight took place on March 15, 1941 with a single Beechcraft Model 18 NPC-54 on daily services between Manila (from Nielson Field) and Baguio. On July 22, the airline acquired the franchise of the Philippine Aerial Taxi Company. Government investment in September paved the way for its nationalization.
PAL services were interrupted during World War II, which lasted in the Philippines from late 1941 to 1945. Upon the outbreak of the Pacific War on December 8, 1941, the two Model 18s and their pilots were pressed into military service. They were used to evacuate American fighter pilots to Australia until one was shot down over Mindanao and the other was destroyed on the ground in an air raid in Surabaya, Indonesia.
On February 14, 1946, PAL resumed operations after a five-year hiatus with service to 15 domestic points with five Douglas DC-3s and a payroll of 108 names. Philippine Airlines returned to its original home, the Nielson Airport in Makati. The airport, heavily damaged during the war, was refurbished and modernized by PAL at a hefty cost of over one million pesos, quickly becoming the official port of entry for air passengers into the Philippines. The airport was operated by Manila International Air Terminal, Inc., a wholly-owned PAL subsidiary.
On July 31, 1946, PAL became the first Asian airline to cross the Pacific Ocean when a chartered Douglas DC-4 ferried 40 American servicemen to Oakland, California from Nielson Airport with stops in Guam, Wake Island, Johnston Atoll and Honolulu. A regular service between Manila and San Francisco was started in December the same year. It was during this time that the airline was designated as the country's flag carrier.
PAL commenced service to Europe in 1947 with the acquisition of more Douglas DC-4s. By 1948 PAL had absorbed the only other scheduled airlines in the Philippines, Far Eastern Air Transport and Commercial Air Lines. Following the government's decision to convert Nichols Field in Pasay City, the site of a former U.S. Air Force base, into a new international airport for Manila, PAL was required to move its base of operations and passenger terminal there from Nielsen Airport. The transfer was accomplished over a five-month period from January 31 to June 28, 1948, with PAL investing an additional P600,000 in ground installations and improvements to Nichols Field.
In 1951, PAL leased a DC-3 named 'Kinsei' to Japan Airlines, which led to the founding of the country's own national airline. In 1954, the Philippine government suspended all long-haul international flights, only to resume five years later, when the government decided that it was a matter of national policy. In three years, PAL started services to Hong Kong, Bangkok, and Taipei using Convair 340s that would later be replaced by the Vickers Viscount 784, which brought the airline into the turboprop age.
First expansion and modernization
In the 1960s, PAL entered the jet age, initially with a lone Boeing 707 that was later replaced with Douglas DC-8 aircraft leased from KLM Royal Dutch Airlines. The aircraft were used for long-haul international flights to Europe and the United States. The DC-3 remained the mainstay of domestic services as it expanded to a total of 72 points as airports were improved or opened, but most of the airline's rural air service was later stopped in May 1964. Two years later, PAL commenced its first turbojet services to Cebu, Bacolod, and Davao using the BAC1-11. In addition, PAL was also privatized, as the Philippine government relinquished its share in PAL after Benigno Toda, Jr., then-PAL chairman, acquired a majority stake in the airline.
When President Ferdinand Marcos declared martial law in 1972, he implemented a one-airline policy. PAL was the lone surviving airline, absorbing Air Manila and Filipinas Orient Airways. On March 10, 1973 PAL was re-designated as the national flag carrier. PAL continued its expansion with the arrival of its first Douglas DC-10 in July 1974. Three years later, the Philippine government re-nationalized PAL, with the Government Service Insurance System holding a majority of PAL shares. In 1979, the Boeing 727, the Boeing 747-200B and the Airbus A300B4, dubbed the 'Love Bus', joined the PAL fleet, while the PAL DC-8 fleet was retired.
In 1975 Philippine Airlines was headquartered in the PAL Building in Makati City.
Between 1979 and 1981, as part of a comprehensive modernization program led by then-President Roman A. Cruz, PAL built a series of mammoth aviation-related facilities around the periphery of the MIA. These included the PAL Technical Center, the PAL Inflight Center, the PAL Data Center and the PAL Aviation School.
On April 2, 1982, a PAL Boeing 747-200B arriving from San Francisco via Honolulu became the first aircraft to dock at the new 800-million peso Terminal 1 of Manila International Airport. PAL would later strengthen its cargo-handling capability by building a dedicated cargo terminal building adjacent to the MIA passenger terminal and installing cargo-refrigeration equipment in 1983. The new facilities, which catered mainly to international cargo services, enabled PAL to become a fully equipped cargo handler. Services to Paris and Zürich began in November 1982.
After Cruz's resignation to President Cory Aquino on the last day of the 1986 EDSA Revolution, Dante G. Santos became PAL president. He launched a massive modernization of the domestic fleet with the acquisition of the Short 360, nicknamed the 'Sunriser', in May 1987, the Fokker 50 in August 1988 and the Boeing 737-300 jet in August 1989.
As the Manila domestic passenger terminal outgrew its capacity and ramp aircraft parking space became more scarce, PAL leased the hangar of the Philippine Aerospace Development Corporation and converted it into the PAL Domestic Terminal 2. The terminal, which opened in October 1988, exclusively served passengers flying to destinations serviced by PAL's Airbus A300s: namely, Cebu and Davao, with General Santos and Puerto Princesa added later on. At the same time, PAL also expanded and improved the existing terminal. The opening of the new facility cleared out the old terminal and provided greater convenience to passengers.
Re-privatization and second expansion
Philippine Airlines Airbus A320-200. The A320-200 was the airline's first narrow body Airbus aircraft.
PAL was privatized again in January 1992, when the government sold a 67% share of PAL to a holding company called PR Holdings. However, a conflict as to who would lead PAL led to a compromise in 1993, when former Agriculture Secretary Carlos G. Dominguez was elected PAL president by the airline's board of directors. The fleet of BAC1-11s were retired in May 1992, following completion of the deliveries of Boeing 737s, and the Short 360s in September. In November 1993, PAL acquired its first Boeing 747-400. The new aircraft arrived at Subic Bay International Airport and was carrying then-President Fidel V. Ramos, who was headed home from the United States after an official visit. The 200-ton aircraft, one of the world's largest and most popular long-range aircraft continues to be the mainstay of PAL's trans-Pacific services and its flagship aircraft. A new service between Manila and Osaka, launched in 1994, brought to 34 the number of points in PAL's international route network.
The PAL Domestic Terminal 2 was refurbished in 1995, with a number of facilities being added or improved, including a renovated Mabuhay Lounge, an exclusive check-in counter for Mabuhay Class passengers, an Express Counter, refreshment bar, a medical clinic, an expansive waiting lounge and two baggage carousels in the arrival section. PAL facilities at NAIA were also renovated. The total cost for the renovation of the domestic terminal (1 and 2) reached P33.15 million while the NAIA renovation totaled P125 million.
In January 1995, Lucio C. Tan, the majority shareholder of PR Holdings, became the new chairman and CEO of the airline. The delivery of the carrier's fourth Boeing 747-400 in April 1996 signaled the start of an ambitious US$4 billion modernization and refleeting program that aimed to make PAL one of Asia's best airlines within three years. The centerpiece of the program was the acquisition of 36 state-of-the-art aircraft from Airbus and Boeing between 1996 to 1999. The refleeting sought to give PAL the distinction of having the youngest fleet in Asia and allow the expansion of its domestic and international route network. The 36 orders of PAL during its refleeting program were for eight Boeing 747-400, four Airbus A340-300, eight Airbus A330-300 and twelve Airbus A320-200. The refleeting program enabled PAL to be dubbed the first airline in the world to operate the full range of new-generation Airbus aircraft.
Asian financial crisis
In 1997, PAL rebranded itself as 'Asia's sunniest airline' to cap its new marketing and advertising thrust. In addition to its refleeting program, PAL commenced service to New York City (using Newark Liberty International Airport) via Vancouver. However, this caused the airline to be financially unstable, having acquired too many aircraft while matching them to unprofitable routes. The refleeting program was about halfway through when the full impact of the Asian financial crisis struck the airline industry early in 1998. By March 31, 1997, at the end of the 1996-1997 fiscal year, PAL had reported its largest annual loss of P8.08 billion.
PAL's financial difficulties were compounded by a series of labor disputes that began when the pilots' union staged a three-week strike in June 1998. This was followed by a strike by the ground personnel union on July 22, which ended four days later with the signing of a deal between the union and management. However, PAL's lingering financial troubles continued to take their toll and on June 19, 1998, the company filed for receivership with the Securities and Exchange Commission, which then appointed a committee to oversee the rehabilitation of the flag carrier. Services to Europe, under the helm of General Manager Heinz van Opstal, were discontinued, with staff dismissals and the closure of PAL's European offices. The airline downsized its operations as the Asian financial crisis dragged the region's once-vibrant economies into recession in 1998. The PAL fleet was reduced from 53 to 22 aircraft with the elimination of all turboprop aircraft, eliminating its rural air service and causing the dismantling of its Cebu City hub. With massive lay-offs also taking place, disputes between the airline's owners and the employee's union led to a complete shutdown of PAL's operations on September 23, 1998, the first Asian airline to do so and one of the largest corporate failures in Philippine history. Cathay Pacific temporarily took over PAL's domestic and international operations during its fourteen-day shutdown, with Cathay Pacific also showing interest in acquiring a 40-percent stake in PAL during this period. However, no agreement was reached.
The airline's flagship Boeing 747-400 and an Airbus A320-200
PAL flew once again on October 7, 1998 after an agreement between PAL employees and top management, reported to be facilitated by then-President Joseph Estrada, was reached, with services to 15 domestic points out of Manila. On October 29, the flag carrier resumed international services with flights to Los Angeles and San Francisco, with other international services being restored three weeks later. Asian services resumed on November 11 with flights to Tokyo and Hong Kong. PAL gradually expanded its network over the next two months, restoring services to Taipei, Osaka (via Cebu), Singapore, Fukuoka, Dhahran, Riyadh and Seoul. With the aviation industry still in the doldrums, PAL continued to search for a strategic partner but in the end, it submitted a 'standalone' rehabilitation plan to the SEC on December 7, 1998. The plan provides a sound basis for the airline to undertake a recovery on its own while keeping the door open to the entry of a strategic partner in the future. PAL presented the new proposed rehabilitation plan to its major creditors during a two-week marathon meeting that started on February 15 in Washington D.C. and ended on March 1 in Hong Kong.
In 1999, PAL submitted its amended rehabilitation plan to the Securities and Exchange Commission that comprised a revised business plan and a revised financial restructuring plan. The plan also required the infusion of US$200 million in new equity, with 40% to 60% coming from financial investors and translating to no less than 90% ownership of PAL. That same year, with the unprecedented boom in air travel, PAL operations were moved to the new Centennial Terminal 2 of Ninoy Aquino International Airport, located at the site of the old MIA terminal building. On August 9, 1999, PAL moved selected domestic flights to the P5.3 billion terminal. Full domestic operations operated from the new terminal on August 10, while international services followed soon after, thus consolidating PAL's flight operations in one terminal for the first time.
Receivership and rehabilitation
A PAL Airbus A340-300. PAL was the first airline in the world to operate the full range of new-generation Airbus aircraft.
In 2000, PAL finally returned to profitability, making some ₱44.2 million in its first year of rehabilitation, breaking some six years of heavy losses. On September 1, 2000, PAL formally handed over its ownership of its maintenance and engineering division to German-led joint venture Lufthansa Technik Philippines (LTP), the world's largest provider of aircraft maintenance services in accordance with the provisions of its rehabilitation plan, which mandates the disposal of the airline's non-core assets. In August of the same year, PAL opened an e-mail booking facility. In 2001, PAL continued to gain a net profit of P419 million in its second year of rehabilitation. In this year alone, PAL restored services to Bangkok, Taipei, Sydney, Busan, Jakarta, Vancouver and Ho Chi Minh City, while launching new services to Shanghai and Melbourne. A year later, PAL restored services to Guam and Tagbilaran.
The Mabuhay Miles frequent flyer program was launched in 2002, combining PAL's former frequent flyer programs, PALSmiles, Mabuhay Club, and the Flying Sportsman (now SportsPlus) all into one. The PAL RHUSH (Rapid Handling of Urgent Shipments) Cargo service was also re-launched during the same year. An online arrival and departure facility and a new booking system was then launched in 2003. In December, PAL also acquired a fifth Boeing 747-400.
In 2004, PAL launched services to Las Vegas to mark its 63rd year of service. PAL also returned to Laoag and started services to Macau on codeshare with Air Macau. The airline also saw its return to Europe with the return of the airline to Paris and Amsterdam on agreements with Air France and KLM. Service to Paris, however, was inevitably cut due to the formation of Air France-KLM. PAL also continued an overhaul of its fleet with the arrival of two new Airbus A320-200s and continued modernizing its ticketing systems with the launch of electronic ticketing. For the first time in Philippine history, the airline flew President-elect Gloria Macapagal-Arroyo and Vice-President-elect Noli de Castro to their inauguration in Cebu City. Arroyo rode a chartered PAL Airbus A330-300, while de Castro was aboard a separate Airbus A320-200.
In March 2005, PAL started services to Nagoya and restored scheduled flights to Beijing after a 15-year hiatus. In response to rival Cebu Pacific's increasing domestic market share, mainly due to its massive re-fleeting program and the its own aging Boeing 737 fleet, PAL signed an agreement for the purchase and lease of up to 18 brand-new Airbus A319-100s and A320-200s from Airbus and GE Capital Aviation Services (GECAS) on December 6, 2005.
The first brand-new, GECAS-leased Airbus A319-100s were delivered to and inaugurated by PAL and President Arroyo in October 20, 2006. It is the first aircraft in the airline's history to offer AVOD-capable inflight entertainment. Later in December, the airline initiated its wide-body re-fleeting program by signing a deal with Boeing in Honolulu for the purchase of two Boeing 777-300ER aircraft to be delivered in 2009, with an option to purchase two more planes in 2011. PAL also signed a separate agreement with GECAS to lease another two Boeing 777-300ER aircraft for delivery in 2010. The purchase of the new 777-300ERs effectively canceled previous orders for new 747-400s, ending the production of said aircraft.
In February 2007, PAL became the country's only airline to meet the IATA Operational Safety Audit (IOSA). IOSA, is the first global standard for airline operational safety auditing. Later, on June 27, 2007, PAL announced its interest in opening a new hub at Diosdado Macapagal International Airport in Angeles City by committing a $50 million investment on airport infrastructure, as well as proposed routes from Angeles City to Korea, Japan and China. The future PAL terminal at the DMIA would be able to accommodate the Airbus A380.
On July 2, 2007, PAL purchased two of the three Bombardier Q300 aircraft ordered by its subsidiary Air Philippines for delivery in November the same year. This move was caused by competition among Philippine carriers to service flights to Malay, home to the tropical island of Boracay. PAL later signed a memorandum of understanding that opens the way for the introduction of flights to the southwestern Chinese city of Chongqing. Service to Chongqing began on March 14, 2008, while service to Chengdu commenced on March 18.
The Securities and Exchange Commission, on October 4, 2007, ordered the release of PAL from receivership. This move came nine years after coming within proximity of liquidation amid mounting bills due to the Asian financial crisis. Moments after PAL's formal exit from rehabilitation, the airline announced plans to attract foreign investments through an international road show to tour around Asia, Europe and North America.
Philippine Airlines was named 'Airline Turnaround of the Year' for 2006 and 2007 by the Centre for Asia Pacific Aviation for its 'strategic contribution to the aviation industry through a significant transformation by successfully restructuring its operations through innovative cost-cutting measures resulting in operating profits'.
Post-receivership and contemporary history
Despite PAL's successful exit from receivership, with the downgrading of the standard of Philippine aviation by the United States Federal Aviation Administration from Category 1 to Category 2 in January 2008, PAL president Jaime Bautista stated that as a consequence of the downgrading, its 2008 growth targets would be lowered. The FAA decision prevents PAL from increasing its flights to the United States from 33 per week or from switching the type of aircraft used unless the airline undertakes a wet-lease agreement with a different carrier. This is in spite of PAL's efforts to expand its presence in the US market by opening new service to San Diego and restarting service to Chicago and later New York City, as well as Saipan. It has been announced that the inspection by the FAA will now be in 2010. The Philippine Civil Aviation Authority asked for the delay.
On March 31, 2008, PAL announced that it had ordered nine aircraft from Bombardier Aerospace: namely three 50-seater Bombardier Q300 and six 78-seater Bombardier Q400 aircraft at an estimated value of $150 million, all in preparation for the launch of PAL Express, its new regional subsidiary, which was unveiled on April 14, 2008. Using the recently-ordered fleet, PAL Express will primarily fly intra-regional routes in the Visayas and Mindanao from Cebu City, as well as secondary routes to smaller airports in island provinces that are not able to accommodate PAL's regular jet aircraft. The launch of PAL Express is a ground-breaking step for PAL as it not only marks the first time it is launching a sub-brand in its history but also marks the return of turboprop aircraft to the PAL fleet since the Asian financial crisis. PAL Express operations began on May 5, with eight flights daily between Manila and Malay. Hub operations from Cebu City commenced on May 19 with flights between Cebu and five points in the Visayas and Mindanao, while service to other destinations, including many destinations formerly served by PAL prior to the Asian financial crisis, began in June and July 2008.
Corporate management
Philippine Airlines is owned by PAL Holdings (PSE: PAL), a holding company responsible for the airline's operations. PAL Holdings is in turn part of a group of companies owned by business tycoon Lucio Tan. PAL is the thirteenth-largest corporation in the Philippines in terms of revenue and the twenty-first largest in terms of assets, as stated in the Philippines' Top 500 Largest Corporations of 2005. As of January 2005, PAL employs a total of 7,322 regular employees, including 450 pilots and 1300 cabin crew. PAL is the sixty-first largest airline in the world in terms of revenue passenger kilometers flown, with over 16 million flown for 21 million available seat kilometers, an average load factor of 76 percent.
For the fiscal year ending on March 31, 2007, Philippine Airlines reported a net income of US$140.3 million, the largest profit in its 66-year history. This allowed it to exit receivership in October. PAL had forecast net profit to reach $32.32 million for the fiscal year ending on March 31, 2008, $26.28 million in 2009 and $47.41 million in 2010, but this proved difficult to achieve, with a large loss announced in early 2009 causing some concern.
Major facilities
Philippine Airlines operates several aviation facilities in the Philippines. These include various training facilities for pilots and cabin crew, catering services, as well as a data center and a flight simulator.
Training facilities
Philippine Airlines maintains training facilities both for its pilots and other crew. This is composed of both the PAL Aviation School, the PAL Technical Center and the PAL Learning Center.
The PAL Aviation School, located within the premises of Diosdado Macapagal International Airport, provides flight training for its own operations and as well as for other airlines, the Philippine government and individual students. It currently operates five Cessna 172Rs and a Piper Seminole for student pilots' training with complete training facilities including simulators for the Boeing 737 and for turboprop aircraft. More than 5,000 students graduated from the PAL Aviation School, eventually joining the ranks of pilots at PAL and other airlines.
The PAL Learning Center, located in Manila, serves as the integrated center for Philippine Airlines' flight deck crew, cabin crew, catering, technical, ticketing and ground personnel.
Airport and cargo services
PAL also maintains integrated airport ground handling services, cargo operations and a full catering service for it and other airlines. This is composed of PAL Airport Services, Philippine Airlines Cargo and the PAL Inflight Center.
Based at both the Centennial Terminal (Terminal 2) and International Cargo Terminal of Ninoy Aquino International Airport, PAL Airport Services offers ground handling for seven international airlines calling at Manila, while Philippine Airlines Cargo processes and ships an average of 200 tons of Manila publications and 2 tons of mail daily throughout the country and 368 tons of cargo abroad daily.
Established in 1979, the PAL Inflight Center is the site of fully equipped in-flight kitchens and catering center of Philippine Airlines which also offer catering services for Japan Airlines, China Airlines, Korean Air and Northwest Airlines, producing some 6,500 meals daily.
PAL Data Center
Located in Pasay City, the PAL Data Center is the headquarters of the airline's information systems department, communications engineering and information technology hub. The center is the core of the Philippine Airlines' operations, having one of the most extensive computer systems and radio communications networks in the Philippines.
PAL Flight Simulator
Located at the PAL Maintenance Base Complex in Pasay City, the PAL flight simulator, designed to simulate a Boeing 737, can duplicate all flight conditions complete with sound and visual system capability for day, dusk and night operations. Due to PAL removing the 737 series from its fleet, it has placed the flight simulator for sale.
Destinations
Philippine Airlines operates a hub-and-spoke route network out of its two hubs in Manila and Cebu. Virtually all PAL routes are operated from its hubs, with the majority of routes operating from Manila. Domestically, PAL flies to major Philippine cities from Manila and Cebu, while internationally, it flies between Manila (Cebu to a lesser extent) and cities in the Asia-Pacific region, with additional service to the United States, Canada and Australia. Many destinations served by PAL, especially destinations in the United States, Canada and Australia, are areas with large overseas Filipino populations.
PAL currently operates two non-hub routes, Vancouver-Las Vegas and Singapore-Jakarta. In the past, PAL operated a number of domestic and international non-hub routes (most notably Iloilo-General Santos, Vancouver-New York and Zürich-Paris), as well as non-stop services to destinations in Europe and extensive domestic operations; these services were discontinued in light of the Asian financial crisis. Some of its previous domestic operations: namely, service from Manila to Naga, Dumaguete and Tuguegarao, have been taken over by Air Philippines, while others have been taken over by other airlines or stopped altogether. Service to the Middle East continued after the Asian financial crisis; however, this was also eventually discontinued due to high fuel prices and an oversupply of seats, as well as intense competition from Middle Eastern carriers. PAL discontinued service to Riyadh, its last Middle Eastern destination, on March 2, 2006 but it maintains code-share agreements with carriers based in that region.
After exiting from receivership, PAL has expressed interest in increasing its frequencies to Canada such as Toronto and China and introducing flights to Cambodia, Nepal, Myanmar and New Zealand, expand its presence in the United States by commencing service to Saipan and San Diego, as well as restore service to Chicago and New York City, and restoring service to India and Europe, as well as the Middle East. The downgrading of the Philippines' aviation status by the Federal Aviation Administration however has prevented PAL from expanding its coverage in the United States. Because of such, PAL has considered returning instead to Brisbane and starting service to Perth and Auckland.
Fleet
Philippine Airlines currently operates a total fleet of forty seven aircraft that includes 17 modern widebody aircraft and 22 narrowbodied Airbus passenger aircraft. PAL's subsidiary PAL Express, a fleet of eight turboprop aircraft. As of 2009, the average age of aircraft in the fleet is 8.1 years.
| | | | | | | |
| --- | --- | --- | --- | --- | --- | --- |
| Aircraft | In Service | Orders | Options | Passengers | Routes | Notes |
| Airbus A319-100 | 4 | 0 | 0 | 134 (8/126) | Short haul Asia | All fitted with new interior; Mabuhay class has IFE with AVOD; all four A319-100s dry leased from GECAS. |
| | | | | | | |
| Airbus A320-200 | 18 | 0 | 5 | Old Configuration 150 (12/138) | Short haul | New Order placed in 2005. |
| | | | | New Configuration 156 (12/144) | Asia, Guam | Newer aircraft have been fitted with new interior; Mabuhay class has IFE with AVOD. 11 owned, 7 leased from GECAS. |
| Airbus A330-300 | 8 | 0 | 0 | 302 (42/260) | High-capacity domestic/international short-medium haul | |
| | | | | | Asia, Honolulu, Sydney, Melbourne | |
| Airbus A340-300 | 4 | 0 | 0 | 264 (44/220) | Medium-high-capacity domestic/international short-long haul | All aircraft to undergo refurbishment |
| | | | | | Asia, Honolulu, Las Vegas, Los Angeles, San Francisco, Vancouver | |
| Boeing 747-400 | 4 | 0 | 0 | Old Configuration 433 (50/383) | High-capacity domestic/international short-long haul | |
| | | | | New Configuration 425 (42/383) | Asia, Los Angeles, San Francisco | |
| Boeing 747-400M | 1 | 0 | 0 | 391 (56/335) | High-capacity domestic/international short-long haul | Refurbishment completed |
| | | | | | Asia, Los Angeles, San Francisco | |
| Boeing 777-300ER | 0 | 6 | 0 | 370 (42/328) | High-capacity domestic/international short-long haul | 4 aircraft purchased directly from Boeing Commercial Airplanes and 2 to be dry leased from GECAS |
| | | | | | Asia, Oceania, North America, Europe (planned) | Entry into service: November 2009 |
| Bombardier Dash 8 300 | 3 | 0 | 0 | 50 (0/50) | Domestic short haul Domestic | Operated by: PAL Express |
| Bombardier Dash 8 400 | 5 | 0 | 0 | 76 (0/76) | Domestic short haul Domestic | Operated by: PAL Express |
| Total | 47 | 6 | 5 | | | |
Note: One (1) Boeing 737-300 owned by PAL with registry RP-C4007 is currently leased by subsidiary, Air Philippines.
Future fleet
In May 2006, Philippine Airlines announced its medium-term fleet plan, covering fiscal years 2006 to 2011. The plan aims to increase and/or replace the current fleet with new additional aircraft for a complete fleet of 43 wide and narrow bodied aircraft at the culmination of the re-fleeting and expansion program. A major overhaul of the narrow-bodied fleet includes the phase-out of all remaining Boeing 737 aircraft by October 2007, maintaining instead a fleet of 20 brand-new Airbus A320 family aircraft from 2008 onwards. The wide-body fleet plan also seeks to increase the current medium-haul fleet of eight Airbus A330-300 aircraft with two additional aircraft between 2007 and 2009, and the long-haul fleet of five Boeing 747-400 and four Airbus A340-300 with six additional aircraft between 2007 and 2011.
On December 6, 2006, PAL signed an agreement with Boeing for two Boeing 777-300ER aircraft, with a purchase agreement for two more aircraft. A separate agreement to lease two additional 777-300ERs from General Electric Capital Aviation Services (GECAS) was signed as well. Delivery of the four 777-300ERs will commence in 2009. In May 2007, PAL exercised its rights to purchase an additional two 777-300ERs for delivery in 2011. However, the recent downgrading of the Philippines' air safety standards by the FAA may delay the deliveries of the new aircraft, as conceded by PAL management. The first 777-300ER is now schedule for November 2009.The second is due January 2010. Those planes are leased. The four 777 purchased will be delivered 2012 and 2013. The 777 will have a high-density configuration, comprising 42 business class seats (2-3-2) and 328 economy seats (3-4-3), which is slightly less that the 747 capacity.
As part of its domestic expansion plan, PAL has also acquired a fleet of nine Bombardier Dash 8 aircraft, three Q300s and six Q400s, for the use of PAL Express. Likewise, Philippine Airlines has also shown interest in acquiring next-generation aircraft such as the Airbus A350, the Airbus A380, the Boeing 747-8 Intercontinental and the Boeing 787 Dreamliner. Currently Philippine Airlines is in negotiations with Airbus towards twelve Airbus A350-900 to replace the A330-300s and the A340-300s.
PAL President Jaime Bautista has expressed interest to replace its 747-400s by 2015 and is highly considering the Airbus A380. Rumors has it that PAL may buy two A380s and lease two more for its expansion in United States soil, but an official announcement has yet to be made. The Airbus A380 will complement its upcoming Boeing 777-300ER in U.S. and Canada routes. As of this moment, studies are being done for a possible A380 order by 2009 or 2010 to be delivered by 2014.
Former fleet
* Airbus A300B4
* Airbus A340-200
* BAC One-Eleven Series 400
* BAC One-Eleven Series 500
* Beech Model 17
* Beech Model 18
* Boeing 707
* Boeing 727-100
* Boeing 737-300
* Boeing 737-400
* Boeing 747-200B
* Convair 340
* De Havilland DHC-3 Otter
* Douglas DC-3
* Douglas DC-4
* Douglas DC-6
* Douglas DC-8
* McDonnell Douglas DC-9
* McDonnell Douglas DC-10
* Fokker 27
* Fokker 50
* Hiller UH-12
* Hawker Siddeley HS 748
* McDonnell Douglas MD-11(Leased from World Airways)
* NAMC YS-11
* Noorduyn Norseman C-64
* Scottish Aviation Twin Pioneer II
* Shorts SD360
* Vickers Viscount 784
Fleet maintenance
The entire Philippine Airlines fleet of Airbus and Boeing jets were formerly maintained in-house at the PAL Technical Center, which consists of two hangars which contain an engine overhaul shop, two engine test cells and test shops. The responsibility of maintaining the fleet, as well as all the facilities, was subsequently transferred in 2000 to Lufthansa Technik Philippines (LTP), a joint venture of Hamburg-based Lufthansa Technik AG, a leading maintenance provider in aircraft maintenance, repair and overhaul, and Macro Asia Corporation, one of the Philippines' leading providers of aviation support services and catering for foreign airlines, owned by Lucio Tan, the majority owner of PAL. LTP currently maintains a four-bay hangar and workshops occupying 110,000 square meters in Manila's Ninoy Aquino International Airport.
Brand-Logo
This logo, PAL's first, was used from the 1950s until the mid-1960s.
The second PAL logo, used from the mid-1960s until 1986.
PAL's third logo was applied to aircraft during the 1970s, in concurrent use with the second one. The typeface used here was later applied to the second logo.
The Philippine Airlines logo has gone under four incarnations in the entire length of its operations. The first logo incorporated a blue oval with 'PAL' superimposed in white letters, a four-pointed star whose points intersect behind the 'A' in the PAL initials, and a wing whose position varied depending on the location of the logo (the wing points to the right if located on the left side of the plane, left if on the right side). A variant of this logo used a globe instead in the blue oval with the PAL initials superimposed. This logo would be in use from the 1950s until the mid-1960s, when it would be replaced by a second logo.
The second logo adopted a blue triangle (with the bottom point missing) and a red triangle superimposed upon it, enclosed by a circle. In the mid-1970s, a third logo, which removed the circle, was introduced. The typeface used in the third logo was later applied to the second logo, which remained the official PAL logo until 1986, when it would be replaced by its current logo.
The current PAL logo features the same two blue and red triangles used in the second and third logos. However, a yellow sun, reminiscent of the flag of the Philippines, was superimposed on top of the blue triangle, and a new Helvetica typeface was used.
Livery
PAL liveries have undergone many incarnations. The first PAL aircraft bore a simple white-top, silver-bottom livery separated by solid straight cheatlines, with a small Philippine flag superimposed on the tail. The name 'Philippine Air Lines' was superimposed in the upper forward portion of the fuselage and the PAL logo was located in the back. Later variants of the livery, especially on PAL jet aircraft, made use of an extended Philippine flag as cheatlines, with the PAL logo superimposed on the tail. By this time, the name 'Philippine Airlines' was used in the livery.
Another variant of the original livery used by PAL is somewhat similar to the current livery used today. However, it uses PAL's third logo on the tail with blue, white and red cheatlines running the center of the fuselage. Later on, the bottom half of the fuselage was also painted white.
The current eurowhite livery, first used with the Short 360, was adopted in 1986 following PAL's corporate rebranding. This livery, (designed by Landor Associates) has the name 'Philippines' superimposed on the forward portion of the fuselage in italics (using the PAL logo typeface), while the tail is painted with the logo and the Philippine flag is visible near the rear of the aircraft. The PAL logo is also painted on the winglets of aircraft that feature them. The name 'Philippines' was used instead of 'Philippine Airlines' to denote that PAL is the primary flag carrier of the Philippines. However, this has led to confusion, leading some to believe that a PAL plane, especially when charted by the President for official or state visits, is in fact the Philippine 'Air Force One'.
Slogans and advertising

'Love at Thirty Thousand Feet'
Written and composed by Jose Mari Chan, the song has many variations for use in advertising.
Problems listening to this file? See media help.
* Mabuhay
* Asia's First Airline
* Welcome Aboard the Philippines
* Shining Through
o 1987 Advertisement
o 1987 Advertisement
o Cebu Advertisement
o 1992 Advertisement
* On the Wings of Change
* Asia's Sunniest
* With You All the Way
* It's About Experience - is the current tagline of the airline and was introduced after its 60th Anniversary. It attempts to highlight the fact that PAL is the first and longest-serving airline in Asia under its original name. The slogan was also used in the airline's ad spot featuring Kevyn Lettau, which incidentally featured her song, 'Sunlight.'
* Love at Thirty Thousand Feet is the de facto theme song of the airline. It was composed by Jose Mari Chan and is still being used today. The song has many variations, including a version for the PAL's Swingaround tour package advertisement.
* Clearly no. 1
* With us, You're always no. 1
Mabuhay Miles
Mabuhay Miles is the Philippine Airlines frequent flyer program. It was established in 2002 by merging all existing PAL frequent flyer programs prior to the Asian financial crisis: namely, PALsmiles, the Mabuhay Club and the Flying Sportsman, with PALsmiles and Mabuhay Club members being moved to the new program on August 1, 2002. The Flying Sportsman program was subsequently transformed into SportsPlus, a three-tiered, subscription-based program which gives extra baggage allocations for sports equipment on PAL flights, aimed specifically at golfers, bowlers, scuba divers, tennis and badminton players, anglers and cyclists. The SportsPlus program is available only to Mabuhay Miles base members, as Mabuhay Miles members on higher membership tiers automatically receive SportsPlus privileges.
Mabuhay Miles members earn miles that can be redeemed at face value on most Philippine Airlines-operated flights, as well as on code-shared routes of partner airlines. Some promotional fares and all flights operated by Air Philippines, however, are ineligible to earn miles. Miles may also be earned by patronizing the services of Mabuhay Miles partners, or by purchasing miles. Membership tiers include Mabuhay Miles Base, Elite, Premium Elite and Million Miler.
Mabuhay Miles Tiers Tier Level Benefits  Requirements
Base  
* Redeemable free flights and service class upgrades
1,000 Miles on eligible published fares with Philippine Airlines and partners.
Elite  
* 25% bonus on actual miles flown for all flights on Philippine Airlines
* Mabuhay Lounge access and participating VIP lounges
* Priority reservation waitlist
* Priority check-in, boarding, luggage handling
* Priority airport standby (higher priority for a seat on the next available flight in case of flight cancellations)
* Additional luggage allowance of ten kilograms flying on Philippine Airlines-operated flights (except to/from the United States and Canada)
* SportsPlus Global and partner privileges
25,000 miles (40,000 km) or
30 one way segments in Fiesta class or
15 one way segments in First or Mabuhay class within a calendar year
Premier Elite  
* Receive all the benefits of Mabuhay Miles Elite
* 75% bonus on actual miles flown traveling to and from the United States and Canada on Philippine Airlines
* For all other flights on Philippine Airlines, a 25% bonus on actual miles flown
* Receive 2 upgrade travel certificates
* Invite a traveling companion to the Mabuhay Lounge
45,000 miles (72,000 km) or
50 one way segments in Fiesta class or
25 one way segments in First or Mabuhay class within a calendar year
Million Miler  
* Receive all the benefits of Mabuhay Miles Premier Elite
* Lifetime Premier Elite Membership
* Highest level of priority and recognition
1,000,000 miles (1,600,000 km) accumulated from the beginning of one's membership
As of October 22, 2004, Philippine Airlines has 27 Million Milers.
Mabuhay Lounge
The Mabuhay Lounge is the Philippine Airlines airport lounge, serving passengers flying Mabuhay Class on Philippine Airlines flights, as well as members of the Mabuhay Miles Elite and Premier Elite membership tiers. There are twelve Mabuhay Lounges, with one each in Bacolod-Silay, Iloilo and General Santos City in the Philippines, and in Honolulu, Los Angeles and San Francisco internationally. There are two lounges at PAL's hubs in Manila and Cebu City, as well as in Davao City, with each lounge respectively catering to PAL's domestic and international passengers.
All Mabuhay Lounges offer light meals and refreshments. At the Mabuhay Lounges in Manila and Cebu City, as well as in Bacolod and Iloilo, amenities include large plasma-screen televisions, a business center equipped with telephones, a fax machine and personal computers with free, unlimited Internet access, as well as massage services. Wi-Fi internet service is available exclusively at the Mabuhay Lounges in Manila and Cebu City.
Codeshare agreements
Philippine Airlines is currently not a member of any existing airline alliance, however, it has codeshare agreements with the following airlines as of July 2008:
* Cathay Pacific
* Emirates
* Etihad Airways
* Garuda Indonesia
* Gulf Air
* Malaysia Airlines
* Royal Brunei Airlines
* Qatar Airways
* Vietnam Airlines

Cabin service
Philippine Airlines currently offers two-class services on most aircraft, but only economy class seating on selected Airbus A320-200 aircraft. The airline's inflight magazine, Mabuhay, is available in all classes. In 2006, in commemoration with the 60th anniversary of the First Transpacific Crossing by an Asian Airline, Philippine Airlines launched One by One in its First Class and Mabuhay Class service onboard transpacific flights. The new inflight meal service method recreates the 'A la Carte' service where passengers can select their own meal from a variety of choices. 'On Demand' service allows passengers to partake of their meals anytime during the flight.
Mabuhay Class (business class)
Mabuhay Class seats, available on all aircraft, offer increased legroom, advanced seat ergonomics and personal screens (older A320-200s do not feature personal screens and instead they have drop-down LCD screens). The food service offers a full-course selection of Western, Filipino and Japanese Kaiseki dishes (the latter is offered on Japan-bound flights). A written menu is provided and orders are taken before take-off.
The Mabuhay Class seats on narrow-body aircraft Audio-Video On Demand, and laptop power supply with a seat pitch of 39 inches (990 mm). Currently, Philippine Airlines is the only local carrier to offer business class on domestic flights. Amenity kits with toothpaste, hairbrush, knitted socks, slumber mask and toiletries from BVLGARI are provided on long-haul flights.
On newly-refurbished Boeing 747-400s, a new business class product manufactured by Recaro was introduced. The new seats offer a pitch of 58-60 inches and they are coated with deep blue upholstery accented with some silver-copper threads; these seats are enclosed in privacy dividers. Mabuhay Class seats offer AVOD and have either 15-inch (380 mm) seatback monitors or 10.6-inch (270 mm) in-arm monitors for bulkhead seats. Mabuhay Class on other aircraft feature either lie-flat (former First Class; pitch is 82 inches (2,100 mm)) or recliner (Business Class; pitch is 50 inches (1,300 mm)) seats. There are personal screens in each seat but the selection is not as wide as those of their new product.
Fiesta Class (economy class)
On long-haul flights, a basic amenity kit with toothpaste, slumber mask and socks is distributed to passengers. Like the economy class seats in other carriers, the passenger's footrests and tray tables are found in the seat in front of them except for bulkhead and exit seats, where the tray tables are embedded in the seats and footrests are on the floor. All widebody aircraft in PAL's fleet have large video and smaller LCD screens mounted in certain parts of the cabin as well as overhead TV screens. A319-100s and A320-200s have drop down LCD screens. All aircraft in the mainline fleet feature rolling audio entertainment to
Fiesta Class passengers.
Newly-refurbished 747-400s feature a new economy class product also manufactured by Recaro. There seats offer a pitch of between 32 and 34 inches and they are coated with deep blue upholstery accented with silver-copper threads. The new economy class offers AVOD and each seat is equipped with 9-inch (230 mm) seatback monitors, mounted either on the seatbacks or armrests (for bulkhead seats). Although other widebody aircraft sport the same amount of pitch as that in the refurbished 747s, there are no in-seat video monitors installed.
In late 2008, Philippine Airlines introduced Econolight, which is its no-frills economy class product. Passengers can travel on domestic and selected regional routes for round-trip fares as low as P488 (for domestic routes) and US$48 (for regional routes; excluding taxes and other fees). While the seat used is the same as PAL's full-service Fiesta Class, food and headsets aren't provided and passengers holding an Econolight ticket will be seated at the back of the aircraft. No physical barriers (i.e. walls or curtains) separate Econolight passengers from full-service Economy class passengers; instead, Econolight passengers are identified with a sticker attached to their seat.
Enhanced cabin
Philippine Airlines is the first airline in Asia to feature an enhanced cabin in its Airbus A320 family aircraft. The Mabuhay and Fiesta class seats in the A319-100 and upcoming A320-200s are fitted with sky blue upholstery with a wave-pattern in aqua blue and terracotta. The laminates at the fore and rear sections of the aircraft are decorated with a palm tree landscape design and the curtains, carpet and surfaces are in various shades of blue, white, gray, silver and tan.
Cabin modernization plan
In the second half of 2006, PAL announced a cabin reconfiguration project for its Boeing 747-400 and Airbus A340-300 aircraft. The airline is spending USD$85.7 million to remove the first-class section and increase the size of its business featuring cocoon-type lie-flat seats and economy cabins. Also, personal screens with AVOD will be made available comprehensively across both cabin classes. The cabin reconfiguration project is scheduled to begin in the third quarter of 2008. The new cabin configuration with the enhanced Mabuhay and Fiesta classes is also expected on the Boeing 777-300ER aircraft on order. The first 747-400 reconfigured plane (RP-C7471) re-entered into service late October 2008. The second reconfigured plane (RP-C7475) was completed in May 2009, and the third (RP-C7472) was completed July 2009.The fourth plane began reconfigured work in early August.Work on the Airbus will begin when the forth 747 is completed.
Incidents and accidents
Although Philippine Airlines aircraft have been involved in a string of accidents since its founding in 1941, the majority of airline accidents have occurred with propeller aircraft during the early years of operations. Few PAL jet aircraft have been involved in accidents, the most notable being the explosion onboard Philippine Airlines Flight 434, masterminded by al-Qaeda and precursor to the ill-fated Project Bojinka.
Despite this, PAL is known for being the only airline in the Philippines to be accredited by the International Air Transport Association with passing the IATA Operational Safety Audit (IOSA), having been accredited in February 2007.
| | | | | | |
| --- | --- | --- | --- | --- | --- |
| Flight No | Date | Aircraft | Location | Description | Casualties |
| | October 1, 1946 | Douglas DC-3 | Davao Airport | The aircraft belly landed in an isolated swamp when the pilot had lost his bearings. | Fatalities: 0 |
| | January 25, 1947 | Douglas C-47 | enroute to Hong Kong-Kai Tak International Airport | Dakota PI-C12 crashed into the 1,723 feet (525 m) high Mount Parker at an altitude of 1,570 feet (480 m). | Fatalities: 4 |
| | June 16, 1947 | Douglas C-47 | Near Cebu | Forced landed on the beach. | Fatalities: 0 |
| | September 13, 1947 | Douglas DC-3 | Zamboanga | Aircraft damaged beyond repair and written off. | Fatalities: 0 |
| | January 21, 1948 | Douglas DC-3 | Mandurriao Airport | Wheels-up landing. | Fatalities: 0 |
| | April 20, 1948 | Douglas C-47 | Jolo Airport | Crashed on landing. | Fatalities: 0 |
| | May 17, 1948 | Douglas DC-3 | Cebu Airport | Crashed on takeoff. | Fatalities: 0 |
| | November 15, 1948 | Douglas DC-6 | Wake Island | Overran runway on landing. | Fatalities: 0 |
| | May 7, 1948 | Douglas C-47 | Enroute Daet to Manila | Crashed into the sea. A time-bomb had been placed aboard the aircraft by two ex-convicts. | Fatalities: 13 |
| N/A | January 24, 1950 | Douglas DC-3 | Iloilo City | The aircraft crashed en route to Mandurriao Airport. | Fatalities: 4 |
| | March 10, 1952 | Douglas DC-3 | Cebu City | Struck the top of a house and crashed. | Fatalities: 3 |
| N/A | March 30, 1952 | Douglas DC-3 | Baguio City | The aircraft, with registration number PI-C270 and departing from Loakan Airport, crashed upon takeoff. | Fatalities: 10 |
| | October 15, 1953 | Douglas C-47 | Near Tuguegarao | Emergency landing in a rice paddy. | Fatalities: 0 |
| N/A | January 14, 1954 | Douglas DC-6 | Rome, Italy | Crashed in Ciampino Airport while attempting to land in heavy turbulence, which led to an engine fire. | Fatalities: 16 |
| | December 11, 1957 | de Havilland Canada DHC-3 Otter | Labo Airport | Climbing through 75 feet (23 m) after takeoff, the Otter suddenly turned left and descended. The airplane hit two trees and caught fire. | Fatalities: 2 |
| | July 14, 1960 | Douglas C-47 | Enroute to Cebu | Bad weather at the intended destination Zamboanga forced the crew of the PAL DC-3 to divert to Cebu. Fuel exhaustion then forced the crew to ditch their plane in shallow water, 40yds off the Mindanao shore. | Fatalities: 0 |
| PR S26 | November 23, 1960 | Douglas DC-3 | Manila | Crashed in Mount Baco while en route to Manila due to poor weather conditions. | Fatalities: 33 |
| PR S85 | December 22, 1960 | Douglas DC-3 | Cebu City | Crashed in Mactan-Cebu International Airport upon takeoff after a failure of the number one engine. | Fatalities: 28 |
| PR 984 | March 2, 1963 | Douglas DC-3 | Davao City | Crashed due to premature descent. | Fatalities: 27 |
| PR 946 | February 21, 1964 | Douglas DC-3 | Marawi City | Crashed due to pilot error upon landing approach. | Fatalities: 31 |
| | May 21, 1964 | de Havilland Canada DHC-3 Otter | Enroute from Siocon Airport to Zamboanga Airport | The pilot continued to fly VFR into unfavourable weather over the jagged shoreline with practically zero visibility due to heavy rain. There was a heavy squall at the time and at the scene of the accident. Weather conditions in the Western Mindanao area during the day of the accident were generally unfavourable for VFR flights. When the pilot took off from Siocon the ceiling at the destination, Zamboanga, was below IFR minima. | Fatalities: 11 |
| | October 29, 1965 | Douglas C-47 | Near Manila | Struck a tree and crashed. | Fatalities: 1 |
| PR 785 | June 29, 1966 | Douglas DC-3 | Sablayan, Occidental Mindoro | Crashed due to crew error, severe turbulence and strong gusty winds. | Fatalities: 26 |
| PR 345 | February 28, 1967 | Fokker F-27 Friendship | Cebu City | Crashed in Mactan-Cebu International Airport during landing due to an aft center of gravity condition resulting from improper loading. | Fatalities: 12 |
| PR 385 | July 6, 1967 | Fokker F-27 Friendship | Bacolod City | Crashed into a mountain. | Fatalities: 21 |
| | August 5, 1969 | Hawker Siddeley HS 748 | Near Zamboanga | A passenger set off an explosive device, probably gelignite, in the lavatory blowing himself out of the plane. The HS-748 landed safely.. | Fatalities: 1 |
| PR 158 | September 12, 1969 | BAC One-Eleven | Antipolo City | Crashed short on a hill upon landing approach. | Fatalities: 45 |
| PR 215 | April 21, 1970 | Hawker Siddeley HS 748 | Manila | Crashed in Nichols Field after a bomb exploded in the rear cargo section. | Fatalities: 36 |
| | May 9, 1970 | Fokker F-27 | Maria Cristina Airport | Control was lost on take-off from runway 02 in almost zero visibility. The F-27 ran off the runway and rolled over stockpiles of sand and crossed the shoulder. The left wingtip struck a stockpile of rocks, causing the aircraft to cartwheel.. | Fatalities: 1 |
| | June 2, 1970 | Fokker F-27 | Near Roxas | A hand grenade exploded inside the passenger cabin at an altitude of 13,000 feet (4,000 m) . A safe emergency landing was carried out at Roxa with a 9 sq ft (0.84 m2) hole in the fuselage.. | Fatalities: 1 |
| | July 1, 1970 | Fokker F-27 | Dumaguete Airport | The F-27 overran the runway. Undercarriage and right wing were severely damaged.. | Fatalities: 0 |
| PR 463 | November 28, 1972 | Hawker Siddeley HS 748 | Bislig City | Bounced and swerved on landing. The nosegear, wings and propellers were severely damaged. | None |
| N/A | February 3, 1975 | Hawker Siddeley HS 748 | Manila | Crashed in Nichols Field after a fire developed in the number two engine shortly after takeoff. It was also due to crew error in their inability to deal with a standard emergency. | Fatalities: 33 |
| | May 10, 1975 | Hawker Siddeley HS 748 | Manila International Airport | Tire burst during retraction. | Fatalities: 0 |
| | June 3, 1975 | BAC One-Eleven | Near Manila | During descent into Manila (at FL200) a bomb exploded in the right lavatory in the rear of the plane. The explosion caused a hole in the fuselage of 1.3m x 4m. A successfull emergency landing was made. | Fatalities: 1 |
| PR 421 | April 18, 1977 | Douglas DC-8 | Tokyo, Japan | A DC-8-53 named "Champaca" (RP-C803) was written off after a landing accident at Haneda Airport. | None |
| | July 17, 1977 | NAMC YS-11A | Mactan Island | The no. 1 engine ran down and temperature rose to 850deg. C. The aircraft, on base leg for an approach to Mactan, lost height and ditched. The airplane sank in 17 feet (5.2 m) of water. | Fatalities: 0 |
| | August 17, 1978 | BAC One-Eleven | Enroute from Cebu to Manila | An explosion in the rear left lavatory blew a hole in the fuselage. The aircraft was flying at FL240 at the time, on its way from Cebu to Manila. | Fatalities: 1 |
| | July 11, 1982 | Hawker Siddeley HS-748-209 | Jolo Airport | The take-off was aborted at V1 when the pilots heard two unusual sounds from the no. 1 engine. The aircraft overran and came to rest against a wall and some vehicles. | Fatalities: 1 |
| | August 4, 1984 | BAC One-Eleven | Tacloban Airport | Overshot runway 36 by 100 feet (30 m) and ended up in the sea. | Fatalities: 0 |
| PR 206 | June 26, 1987 | Hawker Siddeley HS 748 | Itogon, Benguet | Crashed in Mount Ugu, fifteen kilometers south of Loakan Airport in Baguio City, due to poor visibility. | Fatalities: 50 |
| N/A | December 13, 1987 | Short 360-300 | Iligan City | Crashed near Maria Cristina Airport. | Fatalities: 15 |
| RP-C1193 | July 21, 1989 | BAC One-Eleven | Manila | Crashed at Ninoy Aquino International Airport when the aircraft overran the runway while landing, impacting several vehicles on an adjacent roadway. | Ground Fatalities: 8 |
| PR 143 | May 11, 1990 | Boeing 737-300 | Manila | EI-BZG suffered an explosion in the center fuel tank near the terminal of Ninoy Aquino International Airport while preparing for takeoff. The fire and smoke engulfed the aircraft before it could be completely evacuated. The explosion was similar to what happened to the ill-fated TWA Flight 800 six years later. | Fatalities: 8 |
| PR 434 | December 11, 1994 | Boeing 747-200B | Minami Daito, Okinawa, Japan | A small bomb exploded underneath the seat (seat 26K) of Japanese businessman Haruki Ikegami. Ikegami died due to injuries sustained in the explosion, but none of the aircraft's other 293 passengers and crew were killed. The aircraft landed safely. Investigators later found that Ramzi Yousef planted the bomb there to test it out for a terrorist attack he was planning, Project Bojinka. The plan was foiled after an apartment fire in Manila led investigators to the laptop computer and disks containing the plan. | Fatalities: 1 |
| PR 137 | March 22, 1998 | Airbus A320-200 | Bacolod City | The aircraft overran the runway of Bacolod City Domestic Airport and crashed, plowing through homes near its end. | Ground Fatalities: 3 |
| PR 475 | October 26, 2007 | Airbus A320-200 | Butuan City | The aircraft, with 148 passengers on board, overshot the runway of Bancasi Airport. | Injuries: 19 |
Source: Philippine Airlines Accidents and Incidents, Aviation safety Network.
---


Philippine Airlines PAL RP-C1193 BAC-111 Crash Jul 21st 1989
---
Hijackings

* On December 30, 1952, after takeoff from Laoag an armed man forced his way into the cockpit. He pulled .45-caliber pistol and demanded that the plane be brought to Amoy, in mainland China. The captain took over control from the co-pilot and put the plane into a steep dive. The hijacker did not lose his balance and instead shot and killed the captain. The co-pilot took over control and meanwhile the steward had come up to the cockpit to find out what was going on. As he knocked, the hijacker shot him twice through the cockpit door, killing him. The co-pilot changed course to China and continued at 6,000 feet (1,800 m) over the China Sea until two Chinese Nationalists T-6 Harvard planes showed up. Both planes chased the DC-3 and sprayed machine gun fire. The pilot managed to escape until he met with other Nationalist planes, who forced the flight to land at Quemoy. At Quemoy the hijacker was arrested.
* On November 6, 1968, four hijackers demanded money.
* On 30 March 1971, six hijackers attempted to hijack a Philippines Airlines BAC One-Eleven in Guangzhou, China.
* On 11 October 1973, three hijackers surrendered after attempting to hijack a Philippines Airlines BAC One-Eleven in Hong Kong, China.
* On February 25, 1975, Two hijackers attempted to hijack a Philippines Airlines BAC One-Eleven bound from Davao to Manila. Hijackers surrendered.
* On October 7, 1975, One hijacker on a Philippines Airlines BAC One-Eleven bound from Davao to Manila demanded to be taken to Libya. Hijacker surrendered.
* On April 7, 1976, a BAC 1-11 was hijacked by rebels for seven days, demanding money and the release of imprisoned rebels. The aircraft ended up in Benghazi, Libya.
* On May 23, 1976, Philippine Airlines Flight 116, a BAC One-Eleven en route from Davao to Manila, was hijacked by rebels, demanding $375,000 and a plane to fly them to Libya. The hijackers subsequently detonated a hand grenade in the cabin, which burned the aircraft and killing 10 passengers and 3 hijackers. The remaining three hijackers were caught and sentenced to death.
* On July 12, 1980, A hijacker of a Philippines Airlines flight from Manila to Cebu demanded money and wanted to be flown to Libya. The aircraft was stormed and the hijacker arrested.
* On May 21, 1982 A man with a hand grenade, demanding better conditions for sugar workers and coconut farmers, held 109 people hostage aboard a Philippine Airlines jet bound from Bacolod to Cebu. The plane was on the ground at Cebu. The unidentified hijacker also demanded pay raises for teachers and back pay for veterans.
* On December 11, 1994, Philippine Airlines Flight 434 from Manila to Tokyo was hijacked by a terrorist named Yousiff. He planted a bomb when he left the plane
* On May 25, 2000, Philippine Airlines Flight 812, en route from Davao to Manila, was hijacked by a man with marital problems. The hijacker was pulled out of the aircraft before arrival by a flight attendant and used a homemade parachute in escaping, with none of the other passengers and crew being injured or killed.

Other incidents

* On December 17, 2002, Philippine Airlines Flight 110, an Airbus A330-300 en route to Antonio B. Won Pat International Airport from Ninoy Aquino International Airport struck electrical cables on Nimitz Hill during a localizer approach to Guam.
* On April 7, 2004, Philippine Airlines Flight 847, a Boeing 747-400 en route from Ninoy Aquino International Airport in Manila to Mactan-Cebu International Airport in Cebu was forced to return to Manila after take-off due to technical problems experienced because of a bird that got stuck in the engine. Passengers were stranded at the airport for several hours.

Web References:

Philippine Airlines Home Page - http://www.philippineairlines.com/home/home.jsp


Wikipedia - http://en.wikipedia.org/wiki/PAL
---