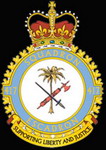 RCAF No 417Sqn 'City of Windsor' Squadron
RCAF No 417Sqn 'City of Windsor' Squadron
Motto: -
NO. 417 SQUADRON (City of Windsor)
(reference: The Roundel, Vol. 6, No. 10, November 1954)
THE STORY of No. 417 (City of Windsor) Squadron is unique in the annals of the Royal Canadian Air Force. The only Canadian fighter squadron in the Mediterranean theatre during the Second World War, it carried the emblem of the maple leaf from the banks of the Nile to the plains of northern Italy, and, flying with the famed Desert Air Force, it fought in support of the Eighth Army in its campaigns from Tunisia to Venetia. The squadron badge, a sword and fasces crossed in front of a palm tree, graphically summarizes its career, 'supporting liberty and justice' from Egypt to Italy.
The squadron was formed on 27 November 1941 at Charmy Down, a few miles from Bath, in Somersetshire. The first commanding officer of the new Canadian unit in No. 10 Group of Fighter Command was Sqn. Ldr. C. E. Malfroy, a New Zealand officer in the R.A.F., who had as his flight commanders Flt. Lts. F. B. Foster and W. H. Pentland, both of whom had previously seen action with No. 402 Squadron of the R.C.A.F. The other 20 pilots that were posted in on formation of the unit were all fresh from courses at Operational Training Units. Spitfire IIAs were ferried in, marked with the letters AN which No. 417 carried throughout its long Odyssey of 43 months, and the squadron began an extensive training programme to become operational. After two months at the Charmy Down satellite, No. 417 moved to the parent station at Colerne where it exchanged the time-worn IIAs for more modern Spitfire VBs and completed its training. On 17 February 1942, three pilots carried out the first operation, an uneventful scramble after a 'bogey' (unidentified aircraft), and the squadron then began taking its turn at readiness.
A few days later, in the last week of February, No. 417 moved by air and rail to Tain in northern Scotland, a relatively quiet area of No. 14 Group. Here it remained for six weeks, with four sorties on a scramble and one convoy patrol constituting the total of its war flying from that base. In contrast to the calm of this area, storm clouds were raging in other and more distant theatres, and late in March the squadron was withdrawn from the line preparatory to a move overseas. Tropical kit was issued, more Canadian personnel were posted in, and Sqn. Ldr. P. B. Pitcher, a veteran of the Battle of Britain, replaced Malfroy in command.
In the early morning of 13 April 1942, the 350 officers and airmen of No. 417 Squadron left Tain for Glasgow, embarked there on the 'Aorangi' and set sail southward two days later. After a short stop at Freetown, Sierra Leone, the ship reached Durban, Natal, on 18 May, where the men felt the curiously heaving bosom of terra firma under their feet for the first time in five weeks. For six days they relaxed in a transit camp; then they embarked again on the 'Mauretania' and sailed northward under a hot and humid sky until they reached Port Tewfik, near the southern end of the Suez Canal, on 4 June. The long 53-day voyage was over.
For six weeks most of the squadron lived under canvas in the Middle East Pool at Kasfareet on the shores of the Great Bitter Lake, waiting for aircraft, transport, and other equipment to become available. During this period many of the pilots were attached to an Aircraft Delivery Unit for duty on the ferry route across Africa, and some of the ground personnel were employed in Maintenance Units. While the squadron was thus dispersed, the war situation in the Middle East became increasingly grim as the Afrika Korps swept across the desert to El Alamein, and special precautions were taken at Kasfareet to guard against possible paratroop attack. In mid-July the scattered ground crews were reassembled, and No. 417 moved to a new camp at Deversoir where it acted as the servicing unit for a U.S.A.A.F. medium bomber (B.25) group until the American ground crews arrived late in August.
The pilots then rejoined the squadron and the reunited unit moved to Shandur on 5 September. At Shandur No. 417 was equipped with Hurricane IICs and became operational once more on 13 September. For the next five months, while the squadron was attached to Air Headquarters Egypt, it was employed on the air defence of the Suez Canal and the Nile delta, flying standing patrols and scrambles to intercept high-flying reconnaissance aircraft that came over to spy on shipping activities in that busy area. Flt. Sgt. J. H. G. Leguerrier drew first blood for No. 417 when he caught a Ju.88 at 28,000 feet over Suez on 26 September and shot it down into the sea. A fortnight later the squadron moved to Idku, where it remained for almost four months while the pilots wore a groove in the sky as they shuttled their Hurricanes back and forth from Port Said to Alexandria, keeping watch over the convoys that came and went with supplies for the Eighth Army's offensive late in October and its subsequent advance across the desert. These weeks of stirring events in the Western Desert were extremely monotonous for the pilots at Idku; only twice were enemy aircraft encountered, and a Ju.88, damaged in one of the engagements, was all they had to show for more than 800 sorties. Warrant Officer W. K. Grant was killed in a flying accident early in November. Later that month Sqn. Ldr. Paul Pitcher was repatriated and F. B. Foster stepped up to commander of the squadron. Spitfire Vs gradually replaced the Hurricanes until the unit was entirely re-equipped by the middle of January 1943.
During the weeks that No. 417 was based at Shandur and Idku, it sent out four detachments for operations farther afield. In October four pilots and ground crews went to Heliopolis for seven weeks on the air defence of Cairo; in November another detachment moved to Kufra Oasis in the Libyan desert for a few uneventful defensive patrols; and in December a third group went off into the blue for some operations at Benina, near Benghazi, while a fourth detachment was sent to Cyprus for a month's duty. Flying Officer J. F. Paterson was shot down and killed on 30 December while on an interception patrol over Cyprus.
On 25 January 1943, No. 417 left the sand and mud of the Nile delta and began moving westward in the wake of the Eighth Army, which was then fighting on the border of Tunisia. For a fortnight the squadron stopped at Landing Ground 175 to carry out a few final convoy and interception patrols over the Alexandria area; then, on 8 February, it headed westward once again to join the Desert Air Force, and in that gallant company won its spurs as a top-rank fighter unit. The vehicle convoy, led by Flt. Lt. James Sinclair, * the newly appointed adjutant, had over 1100 miles to travel along transportjammed roads. For twelve days the trucks bored through the dust clouds, past Mersa Matruh, El Adem, Benghazi, El Agheila, Marble Arch, and Horns — places that a few weeks earlier had been in the headlines — until they reached Castel Benito, an aerodrome about 12 miles inland from Tripoli, on 19 February. The pilots left L.G. 175 five days later and, staying overnight at Benina, reached Castel Benito on the 25th. * Then a Member of Parliament, now Minister of Fisheries.
No. 417's hopes of immediately entering the battle that was being fought along the Mareth Line were deferred for six weeks, as it was again assigned to a defensive role, escorting convoys and guarding the harbour at Tripoli. After resuming operations from Castel Benito on 27 February, the squadron moved the next day to Mellaha, a few miles away, where it laid out its camp site in a palm grove and settled down to a routine of reconnaissances, escorts, and patrols, that were depressingly uneventful day after day and week after week. Finally, on 4 April, two pilots had a long chase after a Ju.88 that got away, and a week later another pilot caught an Me.210 which he was able to damage before his ammunition was exhausted. A detachment that was sent forward in March to operate from the beach at Ben Gardane in Tunisia, 125 miles to the west, was more fortunate. On one of their first missions, a convoy escort on 22 March, Sqn. Ldr. Foster and three of his pilots intercepted an He.111 torpedo-bomber which they crashed into the sea. The Ben Gardane detachment also carried out the squadron's first offensive missions over enemy territory when they escorted medium bombers attacking targets beyond the Mareth Line.
Released at last from its defensive duties, No. 417 moved forward to La Fauconnerie, inland from Sfax, on 11 April, and thence, four days later, to Goubrine South. Exactly one year after leaving Glasgow the squadron had reached the battle front and begun operations with 244 Wing of the Desert Air Force in the closing stages of the Tunisian campaign. Its baptism of fire in the D.A.F. was severe (five pilots were lost within a fortnight), but the squadron gave proof of its fighting spirit, scoring a destroyed, a probable, and two damaged. For four weeks the squadron was very busy, flying as many as four operations a day, chiefly on escort to Kittyhawks as they strafed roads and bombed targets in the battle area.
On one of these escort missions on 19 April, No. 417's twelve Spitfires were heavily engaged by about 24 enemy fighters, which dived on them out of the sun. Four pilots were shot down; Flying Officer D. E. Bruce was killed and Flying Officers G. C. Armstrong, L. C. Grant, and J. M. Riley were taken prisoner. Taken by surprise and greatly outnumbered, the Canadian pilots could claim only one Me. 109 damaged. As he headed for home 'on the deck' after his Spitfire had been damaged in the action, Flying Officer B. N. M. De Larminat, an Argentinian member of the squadron, came upon a pair of Ju.87s, one of which he probably destroyed. On an air-sea rescue mission over Hammamet Gulf a few days later, Flying Officer A. E. Pourbaix was lost. Pilot Officer J. Scott Bushe scored the unit's third kill on 28 April when he destroyed a Macchi 202 in an encounter off Cape Bon, during which another pilot damaged a Me. 109. From Goubrine the squadron moved up to an advanced landing-ground at Hergla, north-west of Sousse, on 6 May, escorted bombers while they pounded Pantelleria into submission, and made anti-shipping reconnaissances to guard against an enemy 'Dunkirk' during the last days of the Tunisian campaign.
When operations ceased temporarily on 12 May, No. 417 moved back to Ben Gardane to prepare for the next campaign. Here in Tunisia the squadron's much-travelled Christmas mail caught up with it, and here too it was adopted by the City of Windsor and acquired the nom de guerre by which it was generally known through the next two years. The 'Windsors' had now been in Africa for a year, and, completely mobile, had become as expert as the Bedouins in striking their tents and moving on to a new camping-ground, leaving behind a trail of rough baseball diamonds in the sand to mark their progress from the Red Sea to the Gulf of Tunis.
After a month of tough assault and tactics training, No. 417 left Ben Gardane and crossed the sea to Luqa on bomb-battered Malta. Sqn. Ldr. Foster turned over his command now to Sqn. Ldr. P. S. Turner, D.F.C. and Bar, who had flown with No. 242 (Canadian) Squadron of the R.A.F. in the Battles of France and Britain and had at least 12 enemy aircraft to his credit. In Malta, too, Flt. Lt. A. U. Houle, D.F.C. joined the squadron as a flight commander. Operations over Sicily began on 20 June 1943, but there was relatively little to do until 6 July, when the endless shuttle-bombing of the island's defences and airfields began, recalling memories of the last days in Tunisia. No. 417's Spitfires escorted Mitchells, Liberators, and Marauders, as they softened up Sicily for the invasion, and then, from 10 to 14 July, covered the landing-beaches where their comrades in the 1st Canadian Division were going ashore. Rarely were enemy aircraft seen during these days.
On 15 July, Sqn. Ldr. Turner's unit set out to follow the other squadrons of 244 Wing across to Cassibile, south of Syracuse in Sicily, where the dispersal site was laid out in a big almond grove and the tents were pitched in a vineyard. After the sandy wastes of North Africa this was a land of plenty - fruits, vegetables, and good red wine - marred only by frequent enemy air raids at night over the nearby ports and beaches. After nine days at Cassibile, the 'Windsors' moved on, as the vanguard now of the wing, to Lentini West, 12 miles from Augusta, where the airfield was laid out in a great valley of wheat and the pup-tents were erected in a shady fig grove and vineyard. Here the squadron remained for almost two months - a remarkably long period. During the 39-day Sicilian campaign the pilots flew 805 sorties on 125 missions, patrolling over Catania and Gerbini, escorting Kittyhawks * and medium bombers as they attacked Cape Milazzo and shipping in the Messina strait, and making fighter sweeps along the north coast of the island. While on an air-sea rescue mission on 13 August, four pilots were jumped by several Macchi 202s that shot Pilot Officer J. T. Field down in the sea, whence he was rescued by the enemy as a prisoner of war. Otherwise there was little seen of the Luftwaffe except for one noteworthy occasion, the night of 11 August, when a force of bombers made a sharp attack on the airfield, damaging several of No. 417's aircraft but causing no casualties, although other units in the wing suffered quite severely. 'Remember Lentini' became a watchword in the squadron. The Sicilian campaign ended on 17 August and, re-equipped now with Spitfire VIIIs, the 'Windsors' were ready for the next battle, the invasion of Italy.
The squadron had now been on operations in the Mediterranean theatre for almost a year. In that time it had travelled about 2000 miles, but combats had been relatively few, the score standing at only three enemy aircraft destroyed, one probably destroyed, and four damaged. In the next 20 months its progress on the ground was much slower, but there was much more action in the air and the pilots added 26 destroyed, 7 probably destroyed, and 18 damaged, to the score in the eight months between October 1943 and May 1944. Then, through the last year of the war when the Luftwaffe had virtually disappeared from the daylight skies over Italy, No. 417 was employed in a fighter-bomber role, blasting defences in the path of the Army and paralysing road and rail movement behind the enemy lines.
Operations over Italy began on 21 August 1943, with the pilots flying in their usual escort role for Kittyhawks on armed reconnaissance along the roads in the toe of the peninsula, for medium bombers on missions farther afield, and for naval vessels shelling the coastal defences. They covered the landing-beaches when the invasion began on 3 September and continued operations from Lentini for the next fortnight. Then, on 19 September, the squadron left Sicily for Grottaglie, north-east of Taranto, moved to Gioia delle Colle on the 25th and pushed on to Foggia ten days later. Autumn at Foggia gave the lie to Italy's 'sunny' reputation; it was getting colder, and heavy rains almost flooded the camp. Enemy resistance was stiffening now and a battle raged at Termoli while the Spitfires stood guard above. During one of these patrols on 4 October, Flt. Lt. Bert Houle destroyed an F.W. 190 and damaged two more. A fortnight later, just before leaving Foggia, the squadron added a damaged Ju.88 to its score.
On 18 October the wing moved again to Triolo, a few miles distant, in a malarial district where mosquitoes swarmed, and for a month the squadron guarded convoys moving into Bari, escorted medium bombers on their missions, carried out standing, patrols over Foggia, and kept watch over the bomb-line along the Sangro River where the Germans had dug in on their 'Winter Line'. Rain forced the squadron to move on 26 November to a drier site at Canne, near Termoli, where the small, rather hazardous landing-strip, running at right angles to the beach, was frequently lashed by high winds sweeping down the coast. Stan Turner took command of the wing at this time and Bert Houle replaced him as leader of the 'Windsors'.
The move to Canne coincided with a flare-up in the battle along the Sangro and for the next seven weeks standing patrols over the bridgehead across the river were the pilots' daily routine. In one action with enemy fighter-bombers trying to destroy the bridges, on 30 November, Flying Officer D. E. Eastman blew up one F.W. 190, Warrant Officer H. G. Johnson sent another down in flames, and a third was probably destroyed. Three days later Sqn. Ldr. Houle engaged a gaggle of seven Me. 109s, two of which he shot down in flames. There was good hunting over the Sangro again on 8 December, when one pilot probably destroyed an F.W. 190 and damaged another, while Flying Officer G. E. Horricks, D.F.M. crashed a third Focke-Wulf. Hit by flak as he pursued another opponent, Garth had to bail out over 'no man's land', where some New Zealand machine-gunners came to his rescue. After these engagements little more was seen of the Luftwaffe while the pilots patrolled over Orsogna and Ortona, where the New Zealanders and Canadians were fighting hard through the dismal December days. 1944 opened with a gale that wrecked half the camp site at Canne. Lacking opposition in the air, the pilots now sought targets on the ground as they carried out their patrols and weather reconnaissances, and in one week they shot up 6 locomotives, 14 freight cars, 13 vehicles, 2 gun posts, and several other objectives. So ended the squadron's first tour with the Eighth Army on the Adriatic coast.
The major centre of pressure had now shifted to the west coast, where the U.S. Fifth Army was trying to crack the Gustav Line. Leaving Canne on 17 January, No. 417 crossed the peninsula to Marcianise, 12 miles north of Naples, where its first duty was to patrol over the great armada of shipping assembled in the Gulf of Gaeta for the landings which took place at Anzio, behind the German right flank, on 22 January. For the next three months the 'Windsors' were engaged in the battle at Anzio, flying patrols over the beach-head, escorting bombers, and occasionally carrying out a fighter sweep; and this period, thanks to a resurgence of enemy air activity, brought them the best hunting in their career. The scoring began on 22 January, on their first patrol over Anzio, when Sqn. Ldr. Houle crashed an F.W. 190 fighter-bomber. On each of the four days, 25 to 28 January, there were further encounters in which the squadron broke up enemy attacks on the beaches, destroying three Focke-Wulfs and Messerschmitts, probably destroying two more, and damaging four. Two of the kills were credited to the squadron as a whole, and the third to Bert Houle. In the engagements one Spitfire was shot down, the pilot of which bailed out safely.
There was a lull then until 7 February, when Sqn. Ldr. Houle sent an Me. 109 down in flames near Lake Bracciano, and the next day the squadron damaged three enemy fighters over the Anzio beachhead. On St. Valentine's Day, in a combat between nine Spitfires and 18 F.W.190s plus 12 or more Me. 109s, the 'Windsors' fought their most successful action, destroying three and damaging three more. Flt. Lt. H. J. Everard shot down an Me. 109, Flying Officer Garth Horricks crashed an F.W. 190, and Sqn. Ldr. Houle destroyed another Focke-Wulf as well as damaging one. Slightly wounded in the engagement (in which he had raised his score to seven destroyed and four damaged, plus four destroyed before joining No. 417), Bert Houle was now at the end of his tour and was repatriated with a Bar to his D.F.C. - the squadron's first decoration. A second D.F.C. soon followed, awarded to Flt. Lt. Everard, who, in the last days of February before he too became tour-expired, scored a destroyed and two probables in a series of combats over Anzio.
When Houle left the squadron, Sqn. Ldr. K. L. Magee took command, but illness soon forced him to relinquish the post and he was replaced by Sqn. Ldr. W. B. Hay, an American in the R.C.A.F. Meanwhile the squadron had added Cassino to its operations book, making many sorties over the centuries-old monastery nestling on the mountaintop, until the position was finally captured in May. But Anzio was still the major commitment for the 'Windsors', and their score continued to grow: an Me.109 which Flt. Lt. L. A. Hall destroyed on 8 March as it was molesting a little 'Cub', another Me. 109 damaged over Cassino a week later, two F.W. 190s crashed on 16 March by Flying Officer J. A. O'Brian and Flt. Lt. B. J. Ingalls, D.F.C., an Me. 109 destroyed by Bruce Ingalls on the 19th, and yet another F.W. 190 damaged by another pilot the same day. On the 29th, when eight 'Windsor' Spitfires engaged 20 of the enemy over Anzio, Pilot Officer J. J. Doyle crashed an Me. 109 and probably destroyed an F.W. 190, Flt. Lt. D. L. G. Turvey made, the pilot bail out of another Focke- Wulf fighter-bomber, and Flying Officer C. B. Everett destroyed yet another 190. A fourth Focke- Wulf was counted as damaged. In the action Jack Doyle was wounded and Pilot Officer Harry E. Morrow was shot down into the sea.
On 11 April the wing began using a landing-strip at Nettuno on the beach-head, where the squadrons took turns at doing 24 hours on readiness. The incessant shelling, bombing, and flak barrage gave the pilots little sleep at night. A small ground detachment was stationed there to look after the aircraft and their crews, and one of the airmen, L.A.C. L. W. K. Bedwell, was mentioned in despatches for his outstanding work. Two final victories ended the squadron's stay at Marcianise and Nettuno. On 23 April, Pilot Officer Johnny Saphir crashed an Me. 109 after a long chase to the outskirts of Rome, and later in the day, on a scramble from the beach-head, Flying Officer Jimmy O'Brian destroyed an F.W.190, also near the Eternal City.
From Marcianise, where the 'Windsors' had witnessed the awesome spectacle of Mount Vesuvius in eruption, the squadron moved up to Venafro, on 24 April, to support a new offensive, which the Army opened on 11 May against the defences at Cassino. At its new base the squadron was much nearer the battle-front, and slit trenches were again essential as an adjunct to the tents which had been brought out of winter storage.
On a long sweep into enemy territory on 9 May, Pilot Officer T. H. Hough was forced down by engine trouble and became a prisoner of war. Five days later No. 417 had its last good fight with the Luftwaffe when six pilots engaged more than 18 fighters over the Cassino battle area and destroyed two (credited to Flying Officers Cam Everett and G. I. Doyle), with three more claimed as damaged (one each by Everett and Doyle and the third by Flt. Lt. Turvey). The squadron's score was now 29 destroyed, 8 probably destroyed and 22 damaged - and there it remained until the war's end. With no opponents in the air the pilots again turned to the ground and made armed reconnaissances along roads and rail lines as the Army, having broken through at Cassino, drove northward beyond Rome. The rapid advance of the troops soon made another move necessary, and on 12 June the pilots flew up to Littorio, near Rome, carried out a few operations from that airfield and then moved on to a landing-ground at Fabbrica. On one of the missions from Littorio, on 16 June, Flt. Lt. Bruce Ingalls was killed by flak while strafing some vehicles. Sqn. Ldr. Hay completed his tour at Fabbrica, receiving a well-merited D.F.C., and another American officer, Sqn. Ldr. O. C. Kallio, D.F.C. succeeded him as leader of the 'Windsors'.
Fabbrica marked a turning-point in the squadron's work. Here it was converted to a fighter-bomber role, with racks fitted under the Spitfires to carry a 500-lb bomb. On 26 June the squadron carried out the first mission in its new function when 12 pilots dive-bombed a crossroads and bridge, and set the pattern for most of No. 417's work through the next ten months. July, August, and September were a particularly busy period, almost 450 tons of bombs being dropped on roads, bridges, and rail lines; but it was also a costly period, with seven pilots reported killed or missing.
On 3 July the wing moved up to Perugia, nearer the front, where it was honoured to receive a visit from the King a few weeks later. Operations continued with almost monotonous regularity - 645 sorties in July and 646 in August; there were still a few calls for bomber escort, and an occasional weather reconnaissance, but the great majority of the sorties were for incessant harrying of the enemy's lines of communication with bomb, shell, and bullet, to the accompaniment of flak that was usually intense and unpleasantly accurate.
On 3 July, Flying Officer R. W. McLaren was shot down by the enemy gunners; the next day Flying Officer J. R. Daly was lost, and on 8 July Flying Officer G. S. Kimber was killed while strafing a vehicle. Later in the month, on the 26th, Flt. Sgt. J. T. MacLeod was taken prisoner when he had to abandon his damaged Spitfire. Another casualty was suffered when Pilot Officer N. H. Gerrand died from injuries received in a flying accident. Engine trouble forced Flying Officer J. E. R. Locke to take to his parachute behind the enemy lines on 10 August. Coming down in an area held by Italian partisans, 'Junior' joined them and spent an exciting 11 weeks, sharing in their activities until guides finally led him back to the Allied lines. He received a mention in despatches for his successful evasion. Another honour awarded at this time was a D.F.C. conferred upon Flt. Lt. D.L.G. Turvey at the end of his second tour with the Desert Air Force. A new type of operation, known as 'Rover', was introduced in August, on which the pilots, after becoming airborne, were directed on to targets (usually gun positions and similar tactical objectives) by controllers in reconnaissance cars with the forward troops.
From Perugia the squadron moved, in a great cloak of secrecy, to Loreto on the Adriatic coast of Italy, on 26 August, and nine days later pushed ahead to Fano where it remained for three months. Flying once again in close support of the Eighth Army, the 'Windsors' strafed roads and rail lines, knocked out gunposts and blasted enemy strong-points as the 'Desert Rats' drove across the Savio and on to Ravenna. Warrant Officer L. J. Baxter was killed by a direct hit from flak on a divebombing mission on 12 September. A fortnight later five pilots scored bull's-eyes on an enemy battalion command post, killing the colonel and filling four ambulances with casualties.
After September, during which there were 593 sorties on 111 missions, the scale of operations diminished as fall and winter closed in with rain, mists, frost, and snow. From October 1944 to February 1945, inclusive, the bomb tonnage decreased to an average of only 56 tons per month. Flt. Lts. T. P. McElhanney and R. E. Evans, both flight commanders, ended their tours in October and received the purple and white ribbon. In November, Sqn. Ldr. Kallio also became tour-expired, with a D.S.O. for his outstanding leadership of the squadron during the past five months. Sqn. Ldr. David Goldberg, a veteran of fighter operations over north-western Europe, where he had made a successful evasion from enemy-held territory, took command of No. 417 through the final stages of the war.
From the crowded airfield at Fano the squadron moved, on 4 December, to Bellaria, an airfield quite close to the sea, about seven miles above Rimini, where it remained until operations ended five months later. Most of the work from this base, when the abominable winter weather permitted, was in support of Army operations in the area west of Ravenna.
On one dive-bombing mission on 10 December, Pilot Officer R. A. Shannon and Warrant Officer R. W. Rideout, an American, were killed when their aircraft collided over the target. The next day another American member of the squadron became a casualty when flak hits forced Pilot Officer H. C. Murray to bail out behind the enemy lines, where he became a prisoner of war. At the end of the month Pilot Officer K. S. Hanson was lost over the sea through engine trouble. A long-range fighter sweep one day in December was marked by a brief encounter with some Messerschmitt fighters, the first that had been seen in many weeks. A month later there was another short dogfight between six Spitfires and a dozen 109s, but it ended before any decisive hits had been scored.
Continuing their blitz against the enemy's rolling-stock and transport, the 'Windsors' claimed 116 freight cars and 13 vehicles in January but lost three pilots. Pilot Officer R. J. Ashley was a victim of engine trouble on the 15th, and Flt. Lt. James Waslyk and Flying Officer Raymond Edge did not return from a bombing mission over Faenza on the 20th. Wounded by flak over Vicenza, Flying Officer T. R. Wilson won the D.F.C. for the courage and fortitude, which he displayed in bringing his aircraft back to base.
Late in February the tempo of operations quickened as the foggy skies began to clear, and in March, when Italy did justify its sunny reputation, the 'Windsors' dropped almost 106 tons of bombs on the enemy's lines of communications and defences. Forty-three rail cuts were claimed; and one locomotive, 80 freight cars, 7 passenger coaches, 47 vehicles, and 16 barges were knocked out, as well as many strong-points and gunpits. Pilot Officer R. W. McKinnon was killed while strafing a barge on 6 March, and ten days later Flying Officer J. W. R. Weekes was taken prisoner when shot down while bombing a rail tunnel. On another mission Sqn. Ldr. Goldberg's section strafed three
'horse-drawn' vehicles loaded with hay, but the curious manner in which one of the vehicles ambled on and manoeuvred around a corner convinced the C.O. that it was actually a camouflaged tank.
In April 1945, when the squadron exchanged its Spitfire VIIIs for IXs, operations rose to a final climax. No. 417 flew 938 hours on 723 sorties, dropped over 244 tons of bombs and claimed three rail cuts, one locomotive, 24 freight cars, 18 tanks, 148 motor vehicles, 121 horse- and ox-drawn vehicles, 8 barges, 7 pontoon bridges, and 7 guns. After 8 April most of the operations were in direct support of the Army in its final drive across the Senio and the Po into the plains of Venetia. Flying Officer R. L. Cotnam was lost on the 8th, and Flying Officer J. T. Rose was killed on the 16th as he attacked enemy trenches. The squadron's last casualty was Flying Officer F. A. Doyle, who was hit by flak on the 22nd and crash-landed in flames behind the lines. Italian peasants sheltered him for two days until he could reach our own troops. On 2 May the German forces in Italy surrendered. Outstanding work during the final months of the campaign won D.F.C.s for Sqn. Ldr. Dave Goldberg, Flt. Lt. A. J. A. Bryan, and Pilot Officer D. H. A. McKay.
The day after hostilities ceased, No. 417 Squadron moved to Treviso, 130 miles to the north. After taking part in the Desert Air Force's victory fly-past over Udine on 28 May, the squadron was disbanded at the end of June 1945, with a message of thanks from the A.O.C. for its 'excellent contribution' and 'the high, repeat high, operational standard' that had been maintained by pilots and ground crews throughout the long campaign.
On operations No. 417 had lost 28 pilots (18 killed or presumed dead, 8 prisoners of war, 2 evaded), and two more had been killed in flying accidents. Two airmen had also been accidentally killed — Cpl. H. W. Yates, one of the squadron cooks, who died of injuries received while on leave in Alexandria in January 1943; and L.A.C. J. M. Belanger, a fitter, who lost his life in a motorcycle accident at Bellaria in February 1945. As a fighter squadron it had destroyed 29 enemy aircraft, probably destroyed 8 more, and damaged 22, with top honours going to Sqn. Ldr. Bert Houle who had accounted for 7 destroyed and 4 damaged; and as a fighter-bomber unit it had made a great contribution to the victories of the Eighth Army in Italy. Its honours included 1 D.S.O., 1 Bar to the D.F.C., 9 D.F.C.s, and at least 5 mentions in despatches.
Additional Information
A history of No. 417 Squadron, RCAF compiled by Joel Brown from online sources.
The RCAF's 16th - seventh Fighter - Squadron formed overseas, The unit was ordered to the Middle East in the spring of '42. Equipped with Hurricane and later Spitfire aircraft, it spent five months in the defence of the Suez Canal and the Nile Delta. In April 1943 it became the only Canadian Squadron in the Desert Air Force and was to provide air defence and close support to the British Eighth Army through the closing stages of the Tunisian campaign, and throughout the Sicilian and Italian campaigns. The squadron was disbanded at Treviso, Italy on 30 June 1945.
Formed at Charmy Down, England, Nov 1941, as part of Fighter Command flying Spit MkIIs and then Spit MkVs
Transferred to Port Tewfik, Gulf of Suez, June 1942 as part of Desert Air Force. No aircraft until September when they got Hurricane IICs then Spit VBs and Spit VCs in October.
Transfered to Triploi Libya, in February 1943 with 244 Wing.
Transfered to Ben Gardane, Tunisia, in March, 1943. Then to Mellaha and Goulvine.
Transferred to Malta for Operation Husky, the invasion of Sicily, in mid 1943.
Moved to Cassabile, south of Syracuse, Sicily in July, 1943. Then to Lentini West and Gerbini. Re-equipped with Spit MkVIIIs
Moved to Canne, Italy, November 1943. Air cover for Ortona.
Detached from Desert Air Force January 1944 and moved to Naples under US XIII Air Support Command to cover the bridgehead at Anzio. Picked up some Spit IXs.
Transferred to Venafro in April 1944 ( near Monte Cassino)
Trained to use 500lb bombs from Spit VIIIs in June 1944 and begin ops as fighter-bombers. This shift to ground attack contributed to a six-fold increase in the monthly casualty rate.
Moved to Littorio, Fabrica and Perugia (north of Rome) in July-August of 1944.
Moved to Loreto, south of Ancona, end-August 1944.
From the Canadian Airforce website:
417 'City of Windsor' Squadron was formed as an RCAF squadron in England on November 27, 1941, flying Spitfires. In April 1942, the Squadron was sent to Egypt to join the Desert Air Force, the only RCAF Squadron in that theatre. Initially equipped with Hawker Hurricanes, 417 Squadron conducted combat patrols against Axis Aircraft operating over the Suez Canal. The Squadron drew first blood when on September 26, Flight Sergeant JHG Leguerrier shot down a Luftwaffe JU-88 near the town of Suez.As World War II progressed, 417 continued its combat patrol missions, battling the enemy Aircraft in their Hurricanes and Spitfires alongside the rest of the Desert Air Force. 417 Squadron was also tasked to provide close air support to the advancing allied ground troops in the African Campaign. With each allied victory 417 Squadron moved through a variety of different theatres including North Africa, Sicily, Malta and Italy. 417 Squadron fought steadily on until disbanded on June 30, 1945 in Treviso, Italy, where it had fought its last aerial battle.