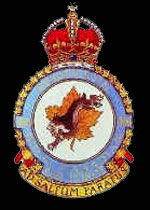 RCAF No. 416 (City of Oshawa) Squadron
RCAF No. 416 (City of Oshawa) Squadron
Motto: - Ad saltum paratus (Ready for the leap)
NO. 417 SQUADRON (City of Windsor)
(reference: The Roundel, Vol. 6, No. 10, November 1954)
Formed at Peterhead on 18 November 1941, the squadron soon received Spitfires and began working up, which was completed in February 1942, when it started convoy patrols and defensive duties.
It moved south in June 1942 and covered the Dieppe landings in August. It then alternated between offensive operations as part of 11 Group and defensive duties in 12 Group, until July 1943 when it joined No 127 Airfield (later 127 Wing) at Kenley
It now provided cover for the numerous bombing missions being carried out against targets in Northern France as well as covering the landings themselves. On 16 June 1944 the squadron moved to the beachhead and from then until VE-Day followed the advancing Allied armies through France, the Low Countries and into Germany. Remaining part of the British Air Forces of Occupation, the squadron re-equipped with Spitfire XIVs in September 1945 but disbanded on 19 March 1946 at Utersen.
Battle Honours Defence of Britain 1942-44, Arnhem Fortress Europe 1942-44, English Channel and North Sea 1943, Dieppe Normandy Rhine France and Germany 1944-45, Gulf War 1991
Squadron Codes used: -
DN Nov 1941 - Mar 1946