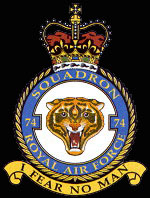 RAF No 74 Squadron
No. 74 Squadron
Motto: I Fear No Man
No. 74 Squadron RAF also known as a 'Tiger Squadron' from its tiger head motif, is a squadron of the Royal Air Force. It operated fighter aircraft from 1917 to the 1990s.
History
First World War
The squadron was first formed at London Colney on 1 July 1917. No. 74 Squadron was a training unit flying Avro 504Ks.
Its first operational fighters were S.E.5As in March 1918. The squadron served in France from April until February 1919, when it returned to Britain where it was disbanded on 3 July 1919.
During its wartime service, it was credited with 140 enemy planes destroyed and 85 driven down out of control, for 225 victories. Seventeen aces had served in the squadron, including Victoria Cross winner Major Edward Mannock, Ira 'Taffy' Jones, Benjamin Roxburgh-Smith, future Air Commodore Keith Caldwell, Andrew Kiddie, Frederick Gordon, Sydney Carlin, Frederick Hunt, Clive Glynn, George Hicks, Wilfred Young, Henry Dolan, Harris Clements, George W. G. Gauld, and Frederick Luff.
Interwar years
During the Abyssian crisis of 1935 the squadron was reformed in September to operate out of Malta with Hawker Demon two-seater fighters. In July the following year, the Squadron, with its Demons, was shipped back to England. It re-equipped with Gloster Gauntlets in April 1937 at Hornchurch, and formed part of the newly created Fighter Command. The Gauntlets were exchanged for the Supermarine Spitfire Mk.I in Feb 1939.
World War II
On 6 September 1939, after an early morning air raid alert, a flight of No 56 Squadron Hurricanes took off from North Weald. These were followed by two reserve Hurricanes. The two reserves were identified as enemy aircraft and Spitfires from Hornchurch, among them 74 Squadron, were ordered to attack them. Both were shot down. One pilot, P/O Montague Hulton-Harrop was killed; the other pilot, Frank Rose, survived. The pilot who fired the fatal shot was 74 Squadron's John Freeborn. The exact story of what happened in this incident, which came to be known as the 'Battle of Barking Creek' may never be known. Even the origin of the name is obscure, as it did not take place above Barking Creek, but near Ipswich, in Suffolk. This was the first RAF operational death of the war. At the subsequent courts martial, the court accepted that the entire incident was an unfortunate error.
The Squadron, as part of No 12 Group, first saw combat during the evacuation from Dunkirk. These battles extracted a heavy toll on both pilots and aircraft. Thereafter they served successfully through the Battle of Britain. Mark Is were replaced with Mark IIa Spitfires in September 1940 at RAF Coltishall. The squadron moved back south to RAF Biggin Hill in October for the end of the Battle of Britain. The Squadron went to the north of England in July 1941 to regroup, from there moving around to stations in Wales and Northern Ireland until it was sent, without aircraft, to the Middle East in April 1942. Shortly after moving to the Middle East in April 1942. In June they arrived in Egypt. The squadron was moved to Palestine to operate as a maintenance unit for USAAF B-24 Liberators. The squadron received Hurricane IIBs in December 1942 and served in Iran until May 1943, moving back to Egypt for shipping patrols and conversion to the Spitfire Mk.Vb and Mk. Vc in September 1943. In late October 1943 the squadron got Mk.IX Spitfires, which were swapped for Mk. XVIs in March. No 74 returned home just in time to take part in the D-Day landings in June 1944, using its aircraft as fighter-bombers supporting the Allied liberation of France, Belgium and the Netherlands.
Post war
Scarcely three days later the Squadron was sent back to England to equip with jets - the Gloster Meteor. Based at RAF Horsham St Faith, the squadron kept Meteors until 1957, when they got a more modern fighter, the Hawker Hunter.
In June 1959 the squadron moved to RAF Coltishall for re-equipment with the English Electric Lightning F.1 in mid 1960. In 1964 they moved to RAF Leuchars to get F.Mk.3 then F.Mk.6 Lightnings in 1966. The Squadron moved to RAF Tengah in Singapore, where it operated alongside 20 Squadron which flew Hunters, and 81 Squadron which flew Canberra PR-9s. The Squadron flew its EE Lightning F6s to RAF Akrotiri, Cyprus to hand them over to 56 Squadron and disbandment on 31 August 1971.
The squadron was reformed at RAF Wattisham in October 1984, with ex-US Navy/Marine F-4Js (designated as the F-4J(UK) in RAF service) that were purchased by the RAF as a stop gap measure to replace those of 23 Sqn that had been sent to the Falklands after the war. 74 Sqn gave up their F-4J Phantoms and received surplus Phantom FGR.2s in January 1991, disbanding in October 1992 when RAF Wattisham began its transition to the Army Air Corps. On 5 October 1992, 74 (R) Squadron stood up with the British Aerospace Hawk as part of No 4 Flying Training School at RAF Valley in the weapon instruction role. At the 1993 Tiger Meet, 74 Sqn won the covetted 'Silver Tiger' trophy while competing against Mirages and F-16's, as Flt Lt Will Jonas said 'Not bad for a training unit eh?!'
With the rationalisation of 4 FTS to just two squadrons, 74(R) Sqn was disbanded on 22 September 2000. In 2008, No.74 would have celebrated its 90th anniversary, however No. 74 (F) Squadron still lives on through the 74 (F) Tiger Squadron Association, which brings together former tigers from all generations for a yearly reunion dinner. Pending raising the necessary funds, plans are in place to create a museum dedicated to the Squadron's history at their former base of Horsham St Faith, now Norwich Airport.
Famous pilots
Famous pilots associated with the squadron:
Keith Caldwell
A.G. 'Sailor' Malan-32 victories
Edward Mannock-61 victories of which 35 were made with 74 Sqn.
H.M.Stephen
74 Squadron Aircraft
July 1917 to Mar 1918 - Avro 504K
Mar 1918 to Feb 1919 - SE5a
Sept 1935 to Apr 1937 - Hawker Demon
Mar 1937 - Gloster Gladiator I
Mar 1937 to Feb 1939 - Gloster Gauntlet II
1939 - Hawker Hurricane I
1938 to 1940 - Miles Magister 14A
Feb 1939 - Supermarine Spitfire 1 & Ia
June 1940 to Dec 1941 - Supermarine Spitfire IIa & IIb
May 1941 to March 1942 - Vickers-Supermarine Spitfire Vb
Dec 1942 to Sept 1943 - Hawker Hurricane I, IIb, IIc
Sept 1943 to Apr 1944 - Vickers-Supermarine Spitfire Vb
Sept 1943 to Apr 1944 - Vickers-Supermarine Spitfire Vc
Oct 1943 to Apr 1944 - Vickers-Supermarine Spitfire IX
Apr 1944 to Mar 1945 - Vickers-Supermarine Spitfire LFIXe
Mar 1945 to May 1945 - Vickers-Supermarine Spitfire LF16e
May 1945 to Mar 1948 - Gloster Meteor F.3
Dec 1947 to Oct 1950 - Gloster Meteor F.4
1950 to 1957 - Gloster Meteor T.7
Oct 1950 - Feb 1957 - Gloster Meteor F.8
Mar 1957 to Jan 1958 - Hawker Hunter F.4
Nov 1957 to 1960 - Hawker Hunter F.6
1959 to 1960 - Hawker Hunter T.7
June 1960 to April 1964 - English Electric Lightning F.1 & F.1a
Apr 1964 to Sept 1967 - English Electric Lightning F.3
1961 to 1967 - English Electric Lightning T.4
Jun 1967 to Aug 1971 - English Electric Lightning T.5
Jun 1967 to Aug 1971 - English Electric Lightning F.6
Aug 1984 to Jan 1991 - McDonnell Douglas Phantom F-4J(UK)
Jan 1991 to Oct 1992 - McDonnell Douglas Phantom FGR.2
Oct 1992 to Sept 2000 - British Aerospace Hawk T.1/T.1A