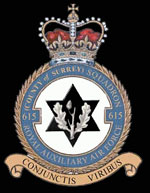 RAF No 615 (County of Surrey) Squadron
RAF No 615 (County of Surrey) Squadron
Motto: Conjunctis Viribus (By our united force)
Formed at Kenley as part of the Auxiliary Air Force on 1 June 1937, it was initially equipped with the Audax. By the end of the year it had received Hectors which it flew until November 1938 when it received Gauntlets and became a fighter squadron at the same time.
It went to France as part of the Air Component of the BEF in November 1939 having re-equipped with Gladiators in May. Conversion to Hurricanes took place just prior to the German invasion of France but by 20 May 1940, the squadron was back at Kenley.
It took part in the early actions of the Battle of Britain but then moved to Scotland to rest. It later took part in offensive sweeps over Europe and defence duties in Wales before moving to India in April 1942. It moved to Burma in December 1942, returned to India to re-equip in May 1943 receiving Spitfires in October. It returned to operations on the Burma front in November but was recalled to India again, for defensive duties in August 1944, before returning to Burma in February 1945, disbanding on 10 June.
No 135 Squadron, equipped with Thunderbolts was renumbered 615 on the same day and began training for the invasion of Malaya. However, the Japanese surrender ended these plans and the squadron disbanded on 25 September 1945.
With the reactivation of the Royal Auxiliary Air Force, 615 was reformed on 10 May 1946 at Biggin Hill as a day fighter squadron equipped with Spitfire 14s. Spitfire F 21s were received in 1947 and F 22s in 1948, both marks being flown until 1950, when the squadron re-equipped with Metoer F 4s. Meteor F 8s were received in September 1951 but along with all the flying units of the RAuxAF it was disbanded on 10 March 1957.
Squadron Codes used: RR Nov 1938 - Sep 1939; KW Sep 1939 - Sep 1945; RAV Jul 1946 - 1949; V6 1949 - Apr 1951