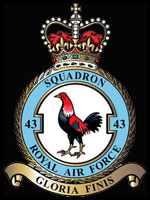 RAF No. 43 Squadron
No 43 (Fighting Cocks) Squadron
Motto: Gloria Finis (Glory is the end)
'The Fighting Cocks' were formed on 15 April 1916 at Stirling equipped with various types, which it used for training until December 1916 when Sopwith 1½ Strutters arrived. These were taken to the Western Front the following month, where it operated as an Army squadron carrying out fighter reconnaissance duties. In September 1917, Camels arrived and ground attack replaced the reconnaissance duties and the squadron continued in the vain until the end of the war. Snipe began to be received in August 1918 and conversion was completed in October but the Armistice prevented these playing a major part in the conflict, instead they were taken to Germany for occupation duties until August 1919 when the squadron moved to Spittlegate where it disbanded on 31 December 1919.
The squadron reformed on 1 July 1923 at Henlow, again it was a fighter squadron and initially it was equipped with its previous mount the Snipe. However, Gamecocks were received in March 1926 and conversion was complete by May. It was this aircraft which led the squadron to adopt the 'fighting cock' as its emblem resulting in its famous 'nickname'. The squadron moved to Tangmere in December 1926 where Siskins replaced the Gamecocks in June 1928. These in their turn were replaced by Furies in May 1931 and hurricanes in Nov 1938.
A move north in late 1939 lasted until May 1940 when the squadron returned to Tangmere and later Northolt, where it took part in the early part of the Battle of Britain. A move to Usworth in September and them Drem in December allowed the squadron to re-equip and act in a training role as well as carry out defensive duties. In June 1942 it returned to Tangmere and offensive operations over France, but the centre of operations was shifting and in September the squadron prepared to move to the Middle East.
It arrived in Gibraltar in November and was soon operating from bases in Algeria, where in February 1943 it converted to Spitfires. From June it covered the landings in Sicily from its new base on Malta after which it moved to newly captured airfields on Sicily itself. Its next move was to Italy in September providing fighter patrols for the advancing armies. For six weeks from July 1944 it was based in Corsica to cover the Allied landings in Southern France, 'Operation Dragoon', after which it returned to Italy, where it remained for the remainder of WW2. Occupation duties in Austria and Italy lasted until the squadron disbanded on 16 May 1947 at Treviso.
A new 43 Squadron appeared on 1 February 1949 when No 266 Squadron was renumbered. It once again found itself at its 'traditional' home of Tangmere, but this was short-lived as the squadron was moved north to Leuchars in Scotland in November 1950. Initially equipped with Meteors, Hunters arrived in August 1954. After nearly eleven years at Leuchars the squadron moved to Cyprus in June 1961 and Aden in March 1963, where it disbanded on 14 October 1967. During the period 13 Mar 1951 to 31 May 1956, the squadron was linked to No 17 in order to keep that squadron's number active.
However, it was not long before 43 returned and a new squadron was formed at Leuchars on 1 September 1969. It was still in the fighter role but was now equipped with the Phantom FG Mk 1, which it continued to operate until Jul 1989. It also used some FGR Mk 2s from May 1988 to November 1988. In July 1989 the squadron's last Phantom was retired and the squadron began training on the Tornado F Mk 3, its first aircraft being received in September when the squadron became operational again. It continued to fly these in the air defence role from its base at Leuchars until June 2009 when it was disbanded once again.
Standards:
Award of Standard originally announced on 15 Jan 1952, effective from 1 Apr 1951 but presented:- lst - 4 June 1957 HM Queen Elizabeth II. 2nd - 26 May 1988 HM Queen Elizabeth II.
Battle Honours:
Western Front, 1917-1918: Arras: Ypres, 1917: Cambrai, 1917: Somme, 1918: Lys: Amiens: Dunkirk: Battle of Britain, 1940: Home Defence, 1940-1942: Fortress Europe, 1942: Dieppe: North Africa, 1942-1943: Sicily, 1943: Salerno: Italy, 1943-1945: Anzio & Nettuno: Gustav Line: France & Germany, 1944 Gulf, 1991: Iraq 2003:
Squadron Codes used: -
NQ Nov 1938 - Sep 1939
FT Sep 1939 - May 1947
SW Feb 1949 - Apr 1951
A Carried on Phantoms
G Carried on Tornados
Aircraft
November 1938-April 1941: Hawker Hurricane I
April 1941-August 1942: Hawker Hurricane IIA and IIB
December 1941-August 1942: Hawker Hurricane IIC
September 1942-October 1942: Hawker Hurricane I
November 1942-March 1943: Hawker Hurricane IIC
February 1943-January 1944: Supermarine Spitfire VB and VC
August 1943-May 1947: Supermarine Spitfire IX
August-November 1944: Supermarine Spitfire VIII
Location
December 1926-November 1939: Tangmere
November 1939-February 1940: Acklington
February-May 1940: Wick
May-September 1940: Tangmere
July-August 1940: Detachment to Northolt
September-December 1940: Usworth
December 1940-February 1941: Drem
February-March 1941: Crail
March-October 1941: Drem
October 1941-June 1942: Acklington
June-September 1942: Tangmere
September-October 1942: Kirton-on-Lindsey
October-November 1942: Moving to Gibraltar
November 1942: Gibraltar
November 1942-March 1943: Maison Blanche
March-April 1943: Jemappes
April-May 1943: Tingley
May 1943: Nefza
May-June 1943: Mateur
June-July 1943: Hal Far
July 1943: Comiso
July-August 1943: Pachino
August 1943: Panebianco
August-September 1943: Catania
September 1943: Cassala
September 1943: Falcone
September-October 1943: Tusciano
October 1943-January 1944: Capodichino
January-May 1944: Lago
May-June 1944: Nettuno
June 1944: Tre Cancelli
June 1944: Tarquinia
June-July 1944: Grossetto
July 1944: Piombino
July-August 1944: Calvi Main
August 1944: Ramatuelle
August-September 1944: Sisteron
September 1944: Lyon/ Bron
September-October 1944: La Jasse
October-November 1944: Peretola
November 1944-February 1945: Rimini
February-May 1945: Ravenna
May 1945: Rivolto
May-September 1945: Klagenfurt
Squadron Codes: NQ (Hurricane), FT (Hurricane, Spitfire)
Duty
1939-1942: Fighter Command
1942-1945: Fighter Squadron: North Africa, Italy
Entering the jet age
In February 1949 No. 266 Squadron was renumbered to No. 43 Squadron, now flying Gloster Meteors from RAF Tangmere. The squadron moved to RAF Leuchars in 1950 and in 1954 began to receive the Hawker Hunter. During much of the 1960s the Squadron operated from Cyprus and was disbanded on 7 November 1967. 43 Squadron reformed at Leuchars on 1 September 1969 with the McDonnell Douglas Phantom which it flew until its replacement by the Tornado F.3 in September 1989.
The Tornado Years
With the F3 the squadron participated in the 1991 Gulf War and maintained a presence in the Iraqi no-fly zones. 43 Sqn crew and personnel are tasked with the duty of QRA, both in Fife, and in the Falklands as part of 1435 Flight and participated in Operation Telic. When the squadron are not on operational taskings they fly daily training sorties through the week, all year round. In April 2008 the squadron absorbed 56 (Reserve) Squadron to perform the role of Tornado F3 Operational Conversion Unit, 56 Squadron having reformed in the ISTAR role.
Tornado F3
The Squadron was awarded the 'Freedom of the city' of Stirling in 2005, the squadron being Stirling's home squadron in the past.  The squadron flagship, ZG757, had a gloss black spine and tail and 90th anniversary emblem on the tail.
Disbandment
No. 43F Sqn stood down on 13 July 2009 for the fourth time in its history. It has been earmarked as the third RAF Eurofighter Typhoon squadron to be established, probably at RAF Leuchars.