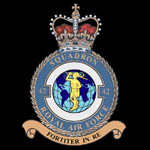 RAF No. No 42 Squadron
RAF No. No 42 Squadron
Motto: Fortiter in re ( Bravely in action)
Formed at Filton on 1 April 1916 as a Corps reconnaissance unit equipped with BE2s, it moved to France in August. It replaced its BEs with RE8s in April 1917 and except for three months, November 1917 to March 1918 when it moved to Italy, operated on artillery spotting and other corps activities over the Western Front for the remainder of the war. The squadron returned to Netheravon in February 1919 where it disbanded on 26 June.
The squadron reformed in the torpedo bombing role on 14 December 1936 from 'B' Flight, No 22 Squadron at Donibristle. Equipped with the Vildebeest, which was obsolete by the beginning of WW2, it was April 1940 before replacements in the form of Beauforts arrived. Anti-shipping and minelaying operations began in June 1940 and continued until June 1942 when the squadron was transferred to the Far East. However, the situation in the Middle East resulted in them being held in the area and attached to No 47 Squadron, so it was December before the squadron arrived in Ceylon.
In February 1943 the squadron changed role when it re-equipped with Blenheims which it used over Burma. The squadron was taken off operations again in August and further re-equipment brought yet another change of role, this time to that of ground attack with Hurricanes. Hurricane missions began in December 1943 and continued up until May 1945 and the squadron disbanded on the 30th of the following month. However, the next day No 146 Squadron equipped with Thunderbolts was re-numbered 42 and operations continued until a further disbandment on 30 December 1945.
No 42 rejoined Coastal Command and reverted to the strike role on 1 October 1946 when No 254 Squadron at Thorney Island was re-numbered. It now operated Beaufighters and continued to do so until 15 October 1947, when it disbanded yet again. From 11 Feb 1949 until 27 June 1952 the squadron number was linked to No 141 and the following day, 28 June 1952, the squadron was revived as a maritime reconnaissance unit at St Eval equipped with Shackleton MR Mk 1s. The squadron moved to St Mawgan in October 1958, having received Shackleton MR Mk 2 in 1954. It successively re-equipped with MR Mk 3s in December 1965, Nimrod MR Mk 1s in April 1971 and finally Nimrod MR Mk 2s in June 1983, the last MR Mk 1 leaving in July. On 1 October 1992, the squadron disbanded but the numberplate was immediately transferred to the Nimrod OCU at Kinloss as No 42 (Reserve) Squadron, which had previously been No 38 (Reserve) Squadron. In April 2010 the Nimrod MR Mk 2 was retired from service and the unit began preparing to train the instructors and develop courses prior to the introduction of the new MRA Mk 4, however the Strategic Defence and Security Review of 2011 decided to scrap these aircraft and the squadron disbanded in April 2011.
Standards:
Award of Standard originally announced on 10 Oct 1961, effective from 1 Apr 1961 but presented:- 14 July 1966 HM Queen Elizabeth II
Battle Honours:
Western Front, 1916-1918: Italian Front & Adriatic, 1917-1918: Somme, 1916: Arras, 1917: Ypres, 1917: Lys: Channel & North Sea, 1939-1942: Biscay, 1940: Baltic, 1941: Fortress Europe, 1941: Pacific, 1943-1945: Eastern Waters, 1943: Arakan, 1943-1944: Manipur, 1944: Burma, 1944-1945: South Atlantic. 1982: Gulf, 1991:
Squadron Codes used: -
QD Allocated Apr 1939 - Sep 1939, but probably not used
AW Sep 1939 - Jun 1942, 1943 - Dec 1945
QM Oct 1946 - Oct 1947
A Jun 1952 - 1956
42 1956 - 1968