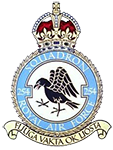 RAF No 254 Squadron
RAF No 254 Squadron
Motto: -not none- the raven is on the badge of 254 Squadron who operated over northern waters, they used the raven as a symbol of the Vikings who also plied the same waters.
Formed on 25 July 1918 from Nos 492, 515, 516, 517 & 518 (Special Duty) Flights at Prawle Point. It was equipped with DH6 and DH9 aircraft, which were used to carry out anti-submarine patrols over the English Channel and along the Cornish coast. The squadron disbanded on 22 February 1919.
The squadron was reformed as a coastal fighter unit on 30 October 1939 at Stradishall. Equipped with Blenheims, it carried out coastal patrols and convoy escort operations along the East Coast. From April 1940, it added reconnaissance and fighter escort for anti-shipping strikes to its range of duties. The squadron moved to Aldergrove in May 1941 and then to Dyce in December, where it converted to Beaufighters in June 1942.
In August the squadron began to carry out training in the torpedo bombing role and in November it joined the North Coates Strike Wing, remaining as part of the Wing, until June 1945 when the squadron moved to Chivenor. It received some Mosquito XVIIIs in April 1945 but these left in May. Moving to Langham in November it received a Buckmaster for crew conversion onto the Brigand, but it was decided not to issue this type to coastal strike squadrons and so it remained equipped with the Beaufighter until disbanded by being renumbered No 42 Squadron on 1 October 1946.
The squadron's final incarnation took place between 1 December 1959 and 23 August 1963 when it operated as a Thor IRBM missile unit at Meltom Mowbrey.
Squadron Codes used: - HJ Allocated Apr 1939 - Sep 1939
QY Oct 1939 - Jul 1942
QM Oct 1943 - Oct 1946
Book References: http://www.rafweb.org/Sqn251-255.htm