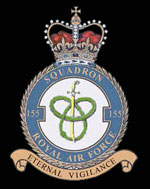 RAF No 155 Squadron
No. 155 Squadron
Motto: Eternal vigilance
On 9 May 1918, it was proposed to form the squadron for deployment to France with DH9As in September and then October but these plans were cancelled on 4 July. Its formation was immediately rescheduled to form on 6 September for deployment on 6 November, but this plan was suspended on 29 July. It eventually formed as a night bomber squadron at Feltham on 14 September 1918, it received some DH9As but having failed to achieve operational status was disbanded on 7 December.
No 155 reformed on 1 April 1942 at Peshawar, equipped with Curtiss Mohawks, however it was September before the squadron became operational. It was involved in air defence operations and coastal patrols around Madras, but the following month it was transferred to Bengal, where it began to operate over Burma.
The squadron retained its Mohawks on a vareity of operations including ground attack, recce and escort duties until January 1944, when it eventually received more modern equipment in the form of Spitfires. With these it was employed on air defence as well as its previous roles. With the Japanese surrender the squadron moved to Singapore and then in May 1946 it moved to Sumatra, where it disbanded on 31 October 1946.
At the time of writing (2002), the squadron's final incarnation began on 1 September 1954, when it reformed at Seletar as a Whirlwind helicopter squadron. It flew these aircraft in the light transport and casualty evacuation roles during Operation 'Firedog' supporting both the army and police in their fight against Communist terrorist. However, on 3 June 1959, the squadron was disbanded when it was amalgamated with No 194 to form No 110 Squadron.
Squadron Codes used: -
FL Allocated Apr 1939 - Sep 1939
DG Jan 1944 - Aug 1945