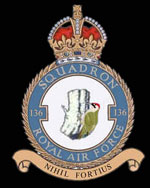 RAF No. 136 Squadron
RAF No. 136 Squadron
Motto: Nihil Fortius (Nothing is stronger)
Formation began on 1 April 1918 at Lake Down, as a training unit until September when it would begin working up on DH9s for deployment to France in October, but it was disbanded on 4 July 1918. Its re-formation was immediately rescheduled to begin as a DH9A unit at the end of September for deployment in November, but these plans were suspended on 29 July and cancelled on 17 August.
In World War Two, the squadron reformed at Kirton-in-Lindsay on 20 August 1941 as a fighter squadron equipped with Hurricanes. Beginning operations at the end of September, it was only operational until early November, when it was despatched to India. However, en-route its destination was altered to Burma as a result of the Japanese attack on the country, arriving in early February 1942. With the Japanese advance being so rapid and successful, it was necessary to withdraw the squadron back to India before the end of February.
Reformed the squadron provided air defence of the Calcutta area from March 1942, but in December it began operating detachments over the Burmese front and by the end of the month it moved to Chittagong to continue these operations. Returning to India in June 1943, it converted to Spitfire Vs in October and returned to the Burma front in December. In January 1944 the Mk Vs were replaced by VIIIs and in July the squadron moved to Ceylon. In March 1945 it moved to the Cocos Islands and remained there until the end of the war. From October 1945 to early May 1946, it re-located to Malaya, but whilst in transit back to India, the squadron was disbanded on 8 May by being renumbered No 152 Squadron.
Squadron Codes used: - XY Allocated Apr 1939 - Sep 1939; HM Dec 1943 - May 1946
Web References:http://www.rafweb.org/Sqn151-155.htm