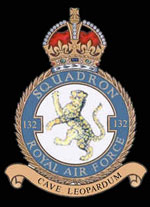 RAF No 132 Squadron
No. 132 Squadron
Motto: Cave leopardum (Beware the leopard)
Formed at Ternhill on 1 March 1918 it was employed on training duties but was planned to become a Handley Page O/400 bomber unit in August for deployment in September. With this in mind it moved to Castle Bromwich on 19 August but its deployment was postponed until November and then December. With this latter postponement, it was also decided to change its role to that of a day bomber unit with DH9As. All plans for its deployment ceased following the Armistice and formation was immediately suspended.
The squadron eventually formed at Peterhead on 7 July 1941 as a day fighter unit equipped Spitfires. When declared operational the squadron remained in Scotland on defensive duties until September 1942, when it moved south to begin offensive operations over France. From January to March 1944, it was back in Scotland but on returning south, it rejoined 2nd Tactical Air Force as a fighter-bomber unit and carried out attacks against ground targets in preparation for Operation 'Overlord', moving onto the continent at the end of June.
However, in September 1944, the squadron was recalled from France and was assigned escort duties until December, when it was despatched to India. Arriving in Bombay in January, it moved to Ceylon, where it began to prepare for the invasion of Malaya, but the end of the war prevented this occurring. Instead of being disbanded, it boarded the carrier HMS Smiter on 2 September 1945 and was transferred to Hong Kong. Here it flew anti-piracy patrols until 15 April 1946 when it disbanded.
Squadron Codes used: -
TD Allocated Apr 1939 - Sep 1939
FF Jul 1941 - Apr 1946