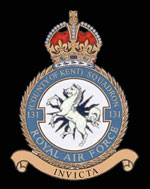 RAF No 131 (County of Kent) Squadron
RAF No 131 (County of Kent) Squadron
Motto: Invicta (Unconquered)
Formed at Shawbury on 1 March 1918 as a training squadron, it was planned that it should become a DH9 day bomber unit and to this end it was to have moved to Kenley on 26 August, but on 17 August 1918 it was disbanded.
The squadron reformed in the fighter role on 30 June 1941 at Ouston. Equipped with Spitfires, it moved to Atcham in September, becoming operational at the same time. For the next two years it moved around Britain, providing convoy protection in the Irish Sea from Wales, offensive sweeps over France from Southern England and air defence of Scapa Flow. It even underwent deck landing training aboard HMS Argus in the Clyde, in order to prepare it for possible amphibious operations.
In March 1944, it received Spitfire VIIs and was employed on bomber escort duties and these were maintained until October, when the squadron was declared non-operational in preparation for being embarked for India. The squadron re-assembled on 5 February 1945 at Amarda Road, but before becoming operational, its Spitfire VIIIs were re-allocated to the Royal Indian Air Force and the squadron disbanded on 10 June 1945. Sixteen days later the squadron was reformed when No 134 Squadron at Ulundurpet was renumbered. Equipped with Thunderbolts, it began training to enable it to support the proposed invasion of Malaya, but the end of the war prevented this happening and the squadron moved to Kuala Lumpur, where it disbanded on 31 December 1945.
Squadron Codes used: - RK Allocated Apr 1939 - Sep 1939; NX Jun 1941 - Dec 1945
Web References:
http://www.rafweb.org/Sqn131-135.htm