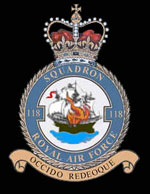 RAF No 118 Squadron
RAF No 118 Squadron
Motto: Occido redeoque (I kill and return)
Formed at Catterick on 1 January 1918, it was intended as a heavy bomber unit equipped with Handley Page O/400s, but after moving to Bicester in June it disbanded on 7 September. It formation was re-scheduled for December as a Vimy bomber unit, but the Armistice brought these plans to an end.
The squadron reformed as a fighter unit at Filton on 20 February 1941, equipped with Spitfire IIs. Operations began in March and in April it made three moved until ending up at Ibsley, but in August it moved again to Tangmere. Until January 1945 the squadron moved around the UK carrying out defensive duties, offensive sweeps and escort duties as location and circumstances demanded, when it converted to Mustangs. Long range escort missions began on 1 February 1945 and continued until the end of the war, the squadron disbanding on 10 March 1946.
The squadron underwent two further incarnations, the first beginning on 15 May 1951, when it reformed as a fighter-bomber unit at Fassberg, equipped with Vampire FB Mk 5s. These were replaced in November 1953 by Venom FB Mk 1s and then in May 1955, the squadron moved to Jever, where it joined No 121 Wing. At the same time it converted from Venoms to Hunter F Mk 4s and also reverted to the day fighter role, until disbanding on 22 August 1957. The last incarnation lasted from 12 May 1960 until 31August 1962, when it was reformed from the Sycamore Flight of No 228 Squadron at Aldergrove.
Squadron Codes used:
RE Allocated Apr 1939 - Sep 1939; NK Feb 1941 - Mar 1946; A Apr 1951 - Mar 1955