Supermarine Spitfire Mk I RAF 54 Squadron coded KL-N N3173 flown by Plt Off Colin Gray Hornchurch 1940
Skins Compatibility: IL2 Sturmovik Forgotten Battles (FB), Ace Expansion Pack (AEP), Pacific Fighters (PF), 1946
EM Spitfire MkI RAF 54Sqn KL-N Plt Off Colin Gray N3137 Hornchurch, May 1941
EM Spitfire MkI RAF 54Sqn KL-N Plt Off Colin Gray N3137 Hornchurch, May 1941 V0A
Spitfire Mk Ia N3137 flown by Plt Off Colin Gray of No 54 Sqn, Hornchurch, May 1941.
Gray flew this aircraft over Dunkirk on 25 May 1940 and shot down a Bf 109E, but was himself almost shot down. He managed to bring back his badly damaged Spitfire to Hornchurch and after being repaired N3173 was passed to No 152 Sqn in Warmwell Dorset. On 20 September 1940 N3173 was flown by Australian Sgt K C Holland who after damaging a 6./KG 55 He 111 made the fatal mistake of flying too close to his prey in order to improve aiming and he was promptly shot down and killed.
Notes:
The above information was gathered mainly from 'Osprey Aircraft of the Aces - Spitfire Mark I/II Aces by A. Price'
(all possible errors in translation to english are mine)
Information of K9795 and R Leigh's R6800 from 'Jane's Supermarine Spitfire by David Oliver, Harpers Publisher 1999'
P. Richey quote from the 'Fighter pilot's Summer by Wg Cdr Paul Richey and Norman Franks, 1999 edition published by Grub Street'
P. Clostermann Quote from '"the Big Show" by Pierre Clostermann, Cassel Military Paperbacks 2004'
J. Goodson quote from the'Tumult in the Clouds by James Goodson, Penguin Books 2003'
AAA Community Mod Installer Version 1.1 (Unified Installer v1.1) must be installed in order to take full advantage of these skins. Link to the Mod required: http://allaircraftarcade.com/forum/viewforum.php?f=58
This pack includes 38 skins with full markings, seven generic skins and five blank skins. Slip the BMP files into your Il-2 Sturmovik/Paintschemes/Skins/SpitfireMkI folder. The skins should work the next time you start the game. Enjoy. These skins are not to be uploaded further without my permission. You may rework these skins for your personal use, but not distribute them commercially or any other way without my permission. Please do not remove credits.
All skins be Emel, Template be emel.
Thank you for downloading this pack.
emel@elisanet.fi
KF-MkI-RAF-54Sqn-KL-N-$Grey-N3173-Hornchurch-1940
KF-MkI-RAF-54Sqn-KL-N-$Grey-N3173-Hornchurch-1940-NC
KF-MkI-RAF-54Sqn-KL-N-$Grey-N3173-Hornchurch-1940-V0A
KL-N (N3173) flown by Pilot Officer Colin Grey
Also one A/C with national markings and one with just the tail flash.
To fly go here http://allaircraftarcade.com/forum/viewtopic.php?t=2620 and follow instalation instructions, or install the unified pack from here http://allaircraftarcade.com/forum/viewtopic.php?t=7688
Original base template for the MkVb by Jester with mech layer from FBS.
MkI work by Kristorf
KF Kristorf_
kristorf576@o2.co.uk
http://www.flying-legends.net/
Supermarine Spitfire Mk I N3173 / KL-N of Plt Off Colin Gray
On the 25th of May the first Allied troops were evacuated from the port of Dunkirk. Also on that day No 54 Sqn escorted a squadron of FLeet Air Arm Swordfish delivering an attack on German troops between Gravelines and Calais. The biplanes completed their attack without interference, and headed for home. Once they were safely on their way the Spitfires were free to head south looking for trouble. They soon found it, as Plt Off Colin Gray later recalled;
'Suddenly, we found ourselves in amongst a gaggle of 109s. I opened fire at one of them, but stopped when I noticed smoke coming back over my wings. That shook me - I thought somebody was firing at me. I pulled round hard but there was nobody there what I had seen was cordite smoke blowing back from my own guns. I looked back at the Messerschmitt and saw Sgt John Norwell (who would later become an ace,) on its tail and the German pilot baling out.'
Norwell and Gray would each be credited with half shares in the destruction of the Messerschmitt. As the German fighter went down, Gray spent too long watching his victim - an error that nearly cost him his life.' 'Suddenly, there was one Hell of a row, like somebody running a bar along a piece of corrugated iron. The stick was knocked out of my hand and ended up in the left hand corner of the cockpit, and my aircraft flicked into a spiral dive. I grabbed the stick and hauled back on it, and the Spitfire responded immediately and started to climb. I looked behind but didn't t see anyone - the German pilot had not repeated my mistake of following me down. I selected +12 lbs (emergency boost) and continued my climb - the airspeed indicator read 240 mph, and I thought 'This is bloody marvellous!' (the normal speed for a Spitfire in a steep climb was about 190 mph indicated). But then, as I continued the climb, the Spitfire began to shudder and it seemed as if it was going to stall. I couldn't understand it - the air­ speed indicated still read 240 mph. I eased the stick forwards, but still it read 240 mph. . .Then I realised what had happened - my pitot head had been shot away, and the needle had dropped to the 240 mph position on the dial under gravity.' .'I levelled out and took stock of the situation. One cannon shell had I gone through the port aileron, and that was what had knocked the stick out of my hand and sent the aircraft into the violent spiral dive which shook off the Messerschmitt. The airspeed indicator was out, and there was no air pressure or hydraulic pressure. That meant that I had no flaps or brakes and I couldn't lower the undercarriage using the main hydraulic system. As I approached Hornchurch I blew down the undercarriage using the emergency carbon dioxide system, and saw the 'undercarriage down' sticks push up through the wings and two green lights come on to indicate that the wheels were down and locked.' 'The landing was very difficult. With the flaps up one came in at a different attitude than usual and, of course, I had no idea of my air­ speed - the indicator still read 240 mph! The first time, I came in too fast. The station commander at Hornchurch, Wg Cdr 'Daddy' Bouchier, was watching my performance and was overheard to say 'The silly young bugger.
He's going too fast. He'll never get in!' He was right. I got my wheels almost on the ground, realised I was not going to make it and took off again. The second time I stood well back from the airfield, and dragged the aircraft in at just above stalling speed. That time I landed and as I touched down the elevator cable finally parted and the control column collapsed back into my stomach.'
'On examination of the Spitfire afterwards it was found that a cannon shell had gone through the inspection hatch in the rear fuselage and exploded inside. Splinters from the shell had slashed their way out of the skinning, leaving it looking like a cheese grater. The air bottles had been knocked out, so were the batteries. There were bullet holes up and down the fuselage and, of course, the cannon shell through the aileron. From the entry and exit holes of the bullets it was clear the Messerschmitt had dived on me from the right and above - it had been a very neat piece of deflection shooting.' The Spitfire (N3173) was put up on trestles and people from Vickers were invited to come and look at it to see how much it had suffered. It was the first Hornchurch aircraft that had been fairly well clobbered and still got back. Soon there would be many others.'
Colin Gary would become one of the most successful Spitfire pilots, and also the top-scoring New Zealander of the war. Yet of his many actions, his most memorable was the one when lack of experience so nearly brought a premature end to his flying career.
Source : Osprey Aviation Books, Aircraft of the Aces Vol 12. ISBN 1-85532-627-2
Asisbiz Free Virtual High Resolution Images for Screensavers and Wallpaper: If you have any additional historical information about the person or aircraft featured in our website please email us at info@asisbiz.com so we can add more details about the historic events featured here. Also any photos would be most welcome. If you're a graphic artist and can help with il2 game skins or Microsoft CFS skins we'd be delighted to host your material.
---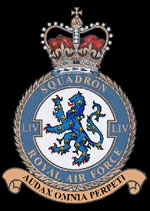 RAF No. 54 Squadron
Active 5 May 1916 - Garrison/HQ: RAF Waddington
Motto: 'Audax Omnia Perpeti - Boldness to endure anything'
Battle honours: Western Front 1916-1918, Arras, Ypres 1917, Cambrai 1917, Amiens, Home Defence 1940-1945, France and Low Countries 1940, Dunkirk, Battle of Britain 1940, Fortress Europe 1941, Eastern Waters Australia 1943-1945, Gulf 1991
No. 54 Squadron (sometimes written as No. LIV Squadron) is a squadron of the Royal Air Force. It is a reserve squadron based at RAF Waddington, England. On 1 September 2005 it took on the role of Intelligence, Surveillance, Target Acquisition and Reconnaissance (ISTAR) Operational Conversion Unit, responsible for training all RAF crews assigned to the Sentry AEW1 and the Nimrod R1. The unit will also train crews of the Sentinel R1 when it comes into service.
Squadron History
World War I
Serny, France, November 1918. A score board recording the claims for enemy aircraft destroyed by No. 80 Wing RAF from July-November 1918. The squadrons listed are: No. 54 Squadron, No. 4 Squadron, Australian Flying Corps (AFC), No. 88 Squadron RAF No. 2 Squadron AFC, No. 92 Squadron RAF No. 103 Squadron RAF and No. 46 Squadron RAF. The other columns are headed 'In Flames', 'Crashed', 'O.O.C.' (Out of Control), 'Driven Down' and 'Balloons Destroyed'.'
No. 54 Squadron was formed at Castle Bromwich on 5 May 1916. Like many others formed at the same time, was tasked with Home Defence duties flying BE2Cs and Avro 504s. Four months later, however, it transferred to day fighter missions and moved to France escorting bombers and attacking observation balloons equipped with Sopwith Pup's. The final months of the War were spent flying Sopwith Camel's in ground attack as well as fighter sorties. In February 1919, the Squadron returned to RAF Yatesbury, reduced to cadre status and was disbanded on 25 October 1919.
The Squadron was reformed at RAF Hornchurch on 15 January 1930 as a fighter squadron equipped initially with Siskins. The squadron had a brief stay at RAF Upavon in 1931, prior to returning to RAF Hornchurch. The Siskins were subsequently replaced with Bulldogs, Gloster Gauntlets in September 1936 and Gladiators in April 1937, before the Squadron's first monoplane, the Supermarine Spitfire, arrived in March 1939.
World War II
The early days of World War II were spent patrolling the Kent coast, until, in May-June 1940, the unit provided air cover for the evacuation of Dunkirk. Following this, the Squadron was heavily engaged in the Battle of Britain, until it moved north to RAF Castletown, in November 1940 to regroup, prior to undertaking coastal patrols. In June 1942, the squadron was moved to RAF Wellingore, to prepare for moving to Australia
Locations in England
* 3 September 1939 - RAF Hornchurch, London Borough of Havering, East London
* September 1940 - RAF Catterick, Catterick, North Yorkshire
* February 1941 - RAF Hornchurch, London Borough of Havering, East London
* November 1941 - RAF Castletown, Castletown, Scotland
* June 1942 - RAF Wellingore, Lincolnshire
In mid-1942, the squadron left for Australia. In January, 1943, it joined No. 1 Wing (Spitfire Wing) of the Royal Australian Air Force, a Spitfire unit responsible for air defence duties against Japanese aircraft in the Darwin area, under Wing Commander Clive Caldwell. Initially, the wing as a whole suffered from the inexperience of its pilots and mechanical problems caused during the shipment of Spitfires. Although contact with the Japanese was generally brief, 54 Squadron pilots scored a number of kills. Following the end of the war, the squadron disbanded in Melbourne on October 31, 1945.
Locations in Australia:
* 13 August 1942: Ascot Vale, Melbourne, Victoria
* 24 August 1942: Richmond, Sydney, New South Wales
* 13 January 1943: Sydney, New South Wales
* 25 January 1943: Parap Airfield, Darwin, Northern Territory
* 9 May 1944: Potshot, Exmouth Gulf, Western Australia]
* 19 May 1944: Livingstone Airfield, Northern Territory
* 23 October 1945: Parap Airfield, Darwin, Northern Territory
* 30 October 1945: Melbourne, Victoria
Commanding Officers
* Sqn.Ldr. E. M Gibbs - 13 August 1942
* Sqn.Ldr. R.B Newton - 11 January 1944
* Sqn.Ldr J.B.H Nicholas - 1 July 1945
* F-Lt D.M Gossland - 30 October 1945
Post War
On 15 November 1946 No. 183 Squadron RAF a Hawker Tempest ground-attack unit based at RAF Chilbolton near Oxford, was renumbered No 54 Squadron and spent a year training pilots destined for overseas service before receiving Vampires and moving to RAF Odiham a year later.
In 1948, six Vampires from the Squadron made history when they completed the first crossing of the Atlantic by jet aircraft. Following a three year stint with Meteors, which arrived in April 1952, Hunters arrived in March 1955, and the Squadron took up ground-attack duties as part of No 38 Group, frequently deploying to trouble spots around the world as part of the Group's Offensive Strike Wing. The squadron relocated to RAF Stradishall in July 1959 and to RAF West Raynham in 1963.
The squadron was briefly disbanded on 1 September 1969, however was reformed the same day after being re-equipped with McDonnell-Douglas Phantoms at RAF Coningsby in 1969. SEPECAT Jaguars were delivered during 1974. Remarkably, the Squadron, role and aircraft have remained the same, albeit at a different base (Coltishall) and updated Jaguar aircraft. With the move to a more expeditionary footing, the squadron has seen a number of operational deployments in recent years including Northern Iraq and the Balkans.
With the decision taken to run the Jaguar fleet down in anticipation of the arrival of its replacement, the Typhoon, No 54 Squadron was disbanded at RAF Coltishall on 11 March 2005. The Squadron Standard is now housed in Norwich Cathedral.
Reformed as 54 (Reserve) Squadron at RAF Waddington on 1 September 2005 it re-roled as the Intelligence, Surveillance, Target Acquisition and Reconnaissance (ISTAR) Conversion Unit, responsible for training all mission crews for the Sentry AEW1 and the Nimrod R1. The unit will also train crews of the Sentinel R1 when it comes into service.
Aerial display
No 54 Squadron was the first jet RAF formation team to trail smoke with a team of five De Havilland Vampires.
In 1955, No 54 Squadron flew a formation of four Hawker Hunter aircraft. The following year the Squadron team adopted the name The Black Knights - the pilots wore black flying suits.
Battle Honours
* Western Front, 1916-1918
* Arras: Ypres, 1917
* Cambrai, 1917
* Amiens: Home Defence, 1940-1945
* France & Low Countries, 1940
* Dunkirk: Battle of Britain, 1940
* Fortress Europe, 1941
* Eastern Waters, 1943-1945
* Gulf, 1991
Squadron Codes
* DL - April 1939 - September 1939, April 1944 - October 1945
* KL - September 1939 - June 1942
* HF - November 1945 - April 1948 (Codes taken over from No 183 Sqn)
* GA - GZ (Carried on Jaguars)
Web Reference:
http://en.wikipedia.org/wiki/No._54_Squadron_RAF
No.54 Squadron spent the entire Second World War flying the Supermarine Spitfire. During 1940 it helped to protect the Dunkirk evacuations and took part in the Battle of Britain, before in the summer of 1942 it moved to Australia, arriving after the worst of the Japanese raids were over.
No.54 Squadron was reformed as a fighter squadron in 1930, flying a series of biplanes until in March 1939 it received its first Spitfires. The Spitfire squadrons were considered too precious to send to France, and so No.54 spent the first few months of the war flying defensive patrols.
It's serious combat debut came during the evacuation from Dunkirk, when a significant proportion of the RAF's Spitfire squadrons were used to prevent German bombers from reaching the beaches. The squadron then played a major part in the first half of the Battle of Britain, eventually having to be moved north to Yorkshire in September to recover. The squadron returned to the south coast in February 1941, and until November took part in the costly fighter sweeps over northern France.
In June 1942, after a six month break in Scotland, No.54 Squadron departed for Australia, as part of a Spitfire wing sent to protect the north coast against Japanese raids. Although the squadron was in place by August, its aircraft were constantly diverted to the Middle East, and No.54 didn't return to combat until January 1943. By this time the threat of Japanese attack was receding, and the raids stopped in July, but the squadron remained in Australia to the end of the war.
Aircraft
March 1939-February 1941: Supermarine Spitfire I
February-May 1941: Supermarine Spitfire IIA
May-August 1941: Supermarine Spitfire VA
August 1941: Supermarine Spitfire IIA
June-November 1941: Supermarine Spitfire VB
November 1941-March 1942: Supermarine Spitfire IIB
March-May 1942: Supermarine Spitfire VB
September 1942-May 1944: Supermarine Spitfire VC
March 1944-September 1945: Supermarine Spitfire VIII
Location
June 1931-May 1940: Hornchurch
October 1939-March 1940: Detachments to Rochford
May-June 1940: Catterick
June 1940: Hornchurch
June-July 1940: Rochford
July 1940: Hornchurch
July-August 1940: Catterick
August-September 1940: Hornchurch
September 1940-February 1941: Catterick
February-March 1941: Hornchurch
March-May 1941: Southend
May-June 1941: Hornchurch
June 1941: Debden
June-August 1941: Hornchurch
August 1941: Martlesham Heath
August-November 1941: Hornchurch
November 1941-June 1942: Castletown
June 1942: Wellingore
August 1942-January 1943: Richmond (Australia)
January 1943-June 1944: Darwin
June-October 1944: Livingstone
October 1944-September 1945: Darwin
September-October 1945: Melbourne
Squadron Codes: KL, DL
Duty
1939-1942: Fighter Command
1942-1945: Fighter Wing, Australia
Web Reference:
http://www.historyofwar.org/air/units/RAF/54_wwII.html